RenaissanceRe, the Bermudian reinsurer and third-party reinsurance capital management veteran, is set to acquire the Tokio Millennium Re reinsurance operations of Japanese giant Tokio Marine, in an acquisition valued at $1.5 billion that brings together an ILS capital manager and a leading reinsurer that also operates as an ILS facilitator.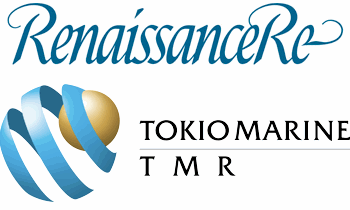 The acquisition was announced late yesterday and full details reported at the time over on our sister publication Reinsurance News.
RenRe announced that it will be acquiring Tokio Marine's reinsurance units, which include Tokio Millennium Re AG and Tokio Millennium Re (UK) Limited, with their bases in Zurich, London and branch in Bermuda as well.
The deal will see Tokio Marine receiving 1.02x the tangible book value of Tokio Millennium Re, expected to be roughly $1.5 billion in total consideration, consisting of cash and RenaissanceRe common shares, depending on how book value develops.
RenRe said the deal would be "immediately accretive" and the deal was unanimously approved by directors on both sides, with the transaction expected to be closed in the first-half of 2019, until which time the two companies will remain separate.
The acquisition is expected to be funded by RenRe with $1.22 billion of cash and $250 million of RenaissanceRe common shares.
It's an interesting M&A deal in many ways, not least because of the active nature of these two firms in the insurance-linked securities (ILS) marketplace, particularly in Bermuda.
RenaissanceRe has been managing third-party capital in reinsurance for as long as almost anyone in the sector, working directly with insitutional investors and integrating their capital into its business model, through managed ILS funds, sidecar structures and joint-venture reinsurance vehicles.
Tokio Millennium Re, as well as being a leading reinsurance platform backed by the strength of one of the Japanese insurance holding company giants, is also very active in facilitating business for the capital markets, acting as a fronting company, a transformer, assisting transactions through the use of its highly rated balance-sheet and helping ILS funds and investors access risk using its variety of collateralized reinsurance structures.
Both are highly expert in their ILS market activities, with deep teams in Bermuda that work closely with ILS investors and ILS funds every day and help them to gain access to the returns of insurance and reinsurance business in innovative ways.
The acquisition brings significant benefits to RenRe, in terms of the broadening of its access to risk, expertise and also an ongoing relationship with Tokio Marine that was also announced yesterday.
Tokio Marine will provide RenaissanceRe with a $500 million adverse development reinsurance cover, to protect the reserves on TMR's stated reserves at closing, including unearned premium linked. That means RenRe won't be exposed to any tail risk in the TMR portfolio and allows the firm to move forwards with greater certainty, after the acquisition and any integration are completed.
As well, the pair are entering into a business cooperation agreement, which aims to "enhance their business relationship" and also "facilitate cooperation on a portion of the international reinsurance purchases of Tokio Marine and its affiliates," which sounds like enhanced access to Tokio Marine's renewals for RenRe.
Kevin O'Donnell, President and CEO of RenaissanceRe commented on the deal, "We are very pleased to have entered into a definitive agreement to acquire Tokio Millennium Re from Tokio Marine. This transaction will increase our scale, broaden our reach and extend our ability to apply our core strengths to a deeper customer base. Our unique ability to capitalize on large, one-of-a-kind opportunities underscores our global reinsurance leadership, including in Casualty and Specialty lines, and our ability to execute on our successful, highly differentiated strategy."
Stephan Ruoff, Chief Executive Officer of TMR, also said, "This transaction with RenaissanceRe, a broadly acknowledged leader in the reinsurance business, reflects well on TMR. Today, TMR is a client-focused global specialist reinsurer, with a well-respected team and a strong brand, bringing the highest service standards to clients and capital markets partners.
"We believe that the transaction opens new opportunities as we integrate TMR into a much larger global reinsurance organization, ready to meet the challenges of a dynamic reinsurance market. TMR will continue to honor its commitments, with the backing of Tokio Marine until the transaction is officially closed."
On top of all of this, RenRe has also struck an agreement with long-time collaborator insurer State Farm, through which it will receive a $250 million investment from the mutual insurer in a private placement of RenRe shares.
After this investment State Farm will own around 4.8% of RenaissanceRe's shares, which the firms said reflects "A broader relationship with RenaissanceRe that includes State Farm's investments in RenaissanceRe-managed vehicles Top Layer Reinsurance Ltd. and DaVinciRe Holdings Ltd."
This also sounds like it will secure RenRe further enhanced access to State Farm's risk, while State Farm benefits from the diversification it can achieve, a relationship that has demonstrated its worth with the joint venture sidecar Top Layer Re over the years.
O'Donnell commented, "We are also honored that State Farm has agreed to broaden its relationship with RenaissanceRe by investing in our common shares and extending a long-standing partnership between our two firms. Our acquisition of TMR and State Farm's investment further enhance the relationship between our respective companies, which I am confident will prove equally beneficial to our shareholders. After these transactions close, we anticipate that we will continue to have the very strong capital and liquidity position you have come to expect from RenaissanceRe."
State Farm Executive Vice President, Paul Smith, said, "We see this as an opportunity to strengthen the long term relationship we have with RenaissanceRe."
It's an intriguing set of announcements and positions RenaissanceRe much closer to both Tokio Marine and State Farm, perhaps yet another sign that collaboration and partnerships, that bring access to expertise and risks, are one of the best ways to profit in global insurance and reinsurance right now.
That's not forgetting that as a result of the acquisition, the combination of RenRe and TMR sees an active manager of ILS assets and third-party capital coming together with a firm that facilitates ILS for other fund managers and investors.
It will be interesting to see how that continues into the future, as facilitating other ILS managers access to risk may not be as attractive for RenRe when it is also looking to manage those third-party assets itself as well.
Analysts were largely positive on the acquisition, as the enlargement of RenRe's platform will enhance its access to risk, diversification and give it an increasing ability to compete against the largest reinsurers in the world.
With significant expertise in managing catastrophe risks, RenaissanceRe has now also positioned itself as a true global player that is likely set for growth as well, across multiple lines of business.
Throw in the expertise in ILS and third-party capital as well and this combination could be a match made for this stage of the cycle.
———————————————————————

View all of our Artemis Live video interviews and subscribe to our podcast.
All of our Artemis Live insurance-linked securities (ILS), catastrophe bonds and reinsurance video content and video interviews can be accessed online.
Our Artemis Live podcast can be subscribed to using the typical podcast services providers, including Apple, Google, Spotify and more.
—————————————