Non-traditional pricing – Alternative Risks
European Acturial Academy Jun 2013
Convergence of Insurance & Financial Markets: Hybrid and Securitized Risk Transfer Solutions
The Journal of Risk and Insurance 2009
ILS Market-derived metrics: Implications for Risk adjustment transforms and capital allocation
Lane Financial & RisKontroller Global
Trading Risk
Gallagher Re 2007
Trading in ILS – Insurance & Risk-Linked Securities Conference
Swiss Re Jun 2005
Quantifying Catastrophe: Inside Cat Bonds
Waters Technology, Timothy Bourgaize Murray Mar 2012
ILS – Guide to listing Catastrophe bonds on the Cayman Islands Stock Exchange
Cayman Islands Stock Exchange 2013
Accuracy of premium calculation models for CAT bonds: An empirical analysis
Econstor Oct 2011
LGT (LUX) II – ILO Fund Trading Calendar 2013
LGT Capital Management Sep 2013
CAT bond Fund Trading Calendar 2013
LGT Capital Management Dec 2013
CAT bond Fund Trading Calendar 2014
LGT Capital Management Dec 2013
Natural Catastrophes in the Bond Market – A Trader's View
Munich Re Jul 2007
Catastrophe Bonds & Insurance-Linked Securities Deal Directory
If you're interested in catastrophe bonds and Iinsurance-linked securities transactions you should visit the Artemis Deal Directory. It lists all the publicly known catastrophe bond & insurance-linked security transactions since the markets inception. The Directory contains details on more than 300 cat bond and ILS deals.
Catastrophe bond & ILS news and articles from Artemis
To read more news on catastrophe bonds and insurance-linked securities visit the Artemis News Blog.
———————————————————————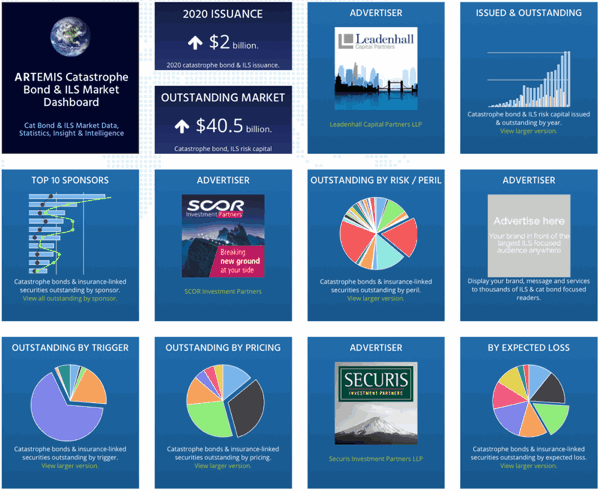 Analyse catastrophe bond market issuance using the Artemis Dashboard and Charts.
We've tracked more than 650 cat bonds and related ILS transactions since 1996, all of which are included in our extensive Deal Directory.
Use the Artemis Dashboard and our Cat Bond Market Charts to analyse this market!