SUBSCRIBE to receive news by email
CLOSE
Receive a regular weekly email newsletter update containing all the top news stories, deals and event information
Receive alert notifications by email for every article from Artemis as it gets published.
Cat Bond & ILS Market Stats
2019 ISSUANCE
$6 billion.
OUTSTANDING MARKET
$38.9 billion.
Launch Dashboard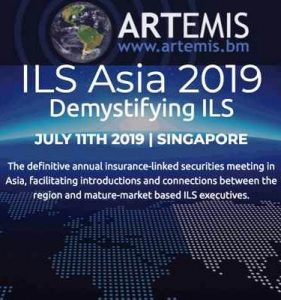 Join us on July 11th 2019 at our fourth annual insurance-linked securities (ILS) conference for the Asia and Pacific region, where experienced ILS practitioners can meet, discuss and network with regional investment, insurance and reinsurance executives.
Reinsurance renewal coverage
Read our reporting, insight and analysis of the main reinsurance renewals, when a large proportion of global reinsurance program terms are renewed and repriced. Reinsurance rates have responded to recent catastrophe losses, but ongoing pressure from the weight of reinsurance capital moderated rises. Read our reinsurance renewal coverage here.
Featured conferences
New to ILS, catastrophe bonds and insurance linked investments?
As the asset class covering insurance linked securities (ILS) and reinsurance linked investments grows, new readers may be looking for simple explanations of some of the key ILS market topics that Artemis covers.