Reinsurance, ILS, catastrophe bond jobs and vacancies
Latest Insurance Linked Securities, Catastrophe Bond & Reinsurance Job Vacancies
Want to list your insurance-linked securities (ILS) jobs here? Contact us to discuss.
———————————————————————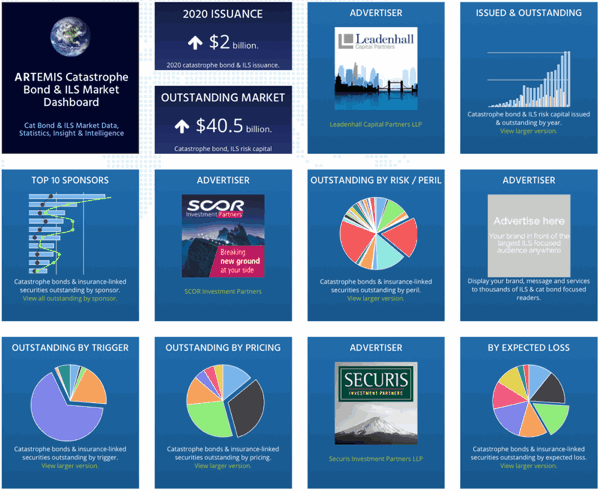 Analyse catastrophe bond market issuance using the Artemis Dashboard and Charts.
We've tracked more than 650 cat bonds and related ILS transactions since 1996, all of which are included in our extensive Deal Directory.
Use the Artemis Dashboard and our Cat Bond Market Charts to analyse this market!


Work at Artemis and Reinsurance News (Janurary 2020)
Journalism, content and commercial roles for leading reinsurance and ILS publishing business
We're a fast-growing publishing and events business, with content provided through our websites which are the core of our service (www.artemis.bm and www.reinsurancene.ws), as well as emails and social media accounts. We also hold a number of conferences and private executive events around the world each year.
Our focus is on creating relevant, timely and accurate news, analysis, data and research, to support the needs of a global and market-leading audience. We also convene inspiring and relevant events that add value.
Above all, everything we do is for our readers, audience and attendees.
After a busy 2019 that saw both our publications readerships become market-leading, in terms of size, reach and relevance including in key markets such as London, New York, Bermuda, Zurich, Hong Kong and beyond, we're looking to expand our team.
Fit is all important as we want to find the right people to help us continue to grow and help us maintain the quality of our content and follow our purposeful direction. So too is a willingness to immerse yourself in the financial market sectors we cover, work hard, provide input and produce great work.
Three roles are currently available:
Junior writer / journalist – Required to hit the ground running, help us cover the news-wires and provide timely and relevant daily news updates to our readers. Quickly developing to also undertake interviews, research-led articles and more.
Senior journalist, deputy editor level – To help us expand our coverage, bringing your established expertise in finance, insurance, reinsurance and related areas. Experienced in breaking unique news, interviews and more. A significant opportunity to write for the largest audiences in risk, reinsurance and ILS and help manage the direction of growing publications.
Commercial and events assistant – Help us to grow our existing successful conferences and roundtable events, plus add new events around the world. Grow the number of advertising relationships and partnerships, helping to drive demonstrable revenue increases. Leverage our market-leading audiences in ways we haven't thought of to propel the company to the next level.
Other ideas? Think you can add something to our business? Get in touch, we're always keen to hear from people with specific domain expertise and experience, or ideas.
Experience in financial services and the insurance, reinsurance industry preferred.
However, we're also open to hearing from people with a desire to learn, immerse themselves in financial and risk related topics, help us to monetise our industry leading readerships and to carve out a career.
We're based in Brighton UK, but also open to hearing from people located elsewhere.
Contact Steve Evans ([email protected]) to discuss. Please explain your expertise, what you want to do next in your career and how you feel you can help us as we grow.