The president of the Federation of European Risk Management Associations (FERMA), Peter den Dekker, has called on reinsurers to work with their ultimate customers, corporate insurance buyers, to develop solutions for natural catastrophe risks. Speaking at the opening of the 2011 FERMA Risk Management Forum, den Dekker implied that the recent spate of disasters shows a need for better lines of communication and understanding between reinsurers and risk managers.

He continued to explain that risk managers could do more to help insurers and reinsurers to feel more comfortable with the risks that they want to have underwritten; "The reinsurers complain about complex business models and a lack of information, so we need to learn more about their businesses, their processes, how they use their models and what information they want from us."
"Our businesses are so complex that we cannot control every aspect of our supply chains when there is a catastrophe." stated den Dekker. "We are looking to the insurance industry to support us with contingent business interruption policies, and we need the support of the reinsurance industry. To get the sort of financial protection that we need in the face of catastrophes – and to make it a worthwhile business for the insurers and reinsurers – is an issue for us working together."
These contingent risks which can result in massive losses after catastrophes are often woefully underinsured due to a lack of data, claims experience and modelling for contingent business interruption. den Dekker hopes that by helping reinsurers better understand the risks risk managers can collectively work with them to come up with innovative solutions.
It's likely that alternative risk transfer techniques could prove suitable to certain industries business interruption needs but risks will need to be modelled and analysed in much more detail before solutions such as insurance-linked securities could be put to use. We've spoken with some brokers who have looked at industry loss approaches to industry specific business interruption risk transfer but they have always told us that the long tail of these claims makes it too difficult to sell to investors. It could be some time before the capital markets can participate meaningfully in this area.
———————————————————————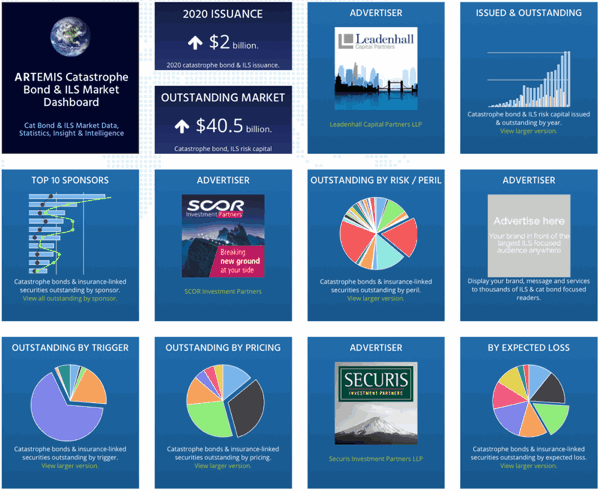 Analyse catastrophe bond market issuance using the Artemis Dashboard and Charts.
We've tracked more than 650 cat bonds and related ILS transactions since 1996, all of which are included in our extensive Deal Directory.
Use the Artemis Dashboard and our Cat Bond Market Charts to analyse this market!