Congressional plans for a five-year extension of the National Flood Insurance Program (NFIP) suggest that FEMA may be given the power to transfer some of the risks associated with the flood insurance program to the private reinsurance and risk transfer markets. Currently the NFIP is thought to be able to cope with claims resulting from a normal years flooding but unable to cope with the 1 in 100 year type flood disaster. The private risk transfer markets are seen as the best source of capital to support the program.

According to the New York Times, both chambers of Congress are supporting the inclusion of provisions allowing the NFIP to buy reinsurance in the five-year extension plan. However the article says that it is not a given that the NFIP will be able to afford sufficient reinsurance to make it a viable plan without increasing premiums for householders. And if it does seek to buy reinsurance cover how much of its total risk, which amounts to $1.2 trillion, will it try to place.
Industry experts suggest that the NFIP could seek to transfer a small amount of risk to the private reinsurance markets to begin with and grow that amount year by year in line with premium increases which would help to make reinsurance more affordable. The legislation passing through Congress would require the NFIP to undertake a study looking at their claims paying capacity under different scenarios to determine how much reinsurance would be appropriate and what level of premium increases would be needed to afford it.
Catastrophe bonds are of course an option for the NFIP and they could follow the model of the California Earthquake Authority in bypassing the traditional reinsurance markets altogether to place a cat bond directly with investors. It seems likely that the study which FEMA will undertake will also looking into the feasibility of different forms of risk transfer, including cat bonds, to determine the affordability of each. The multi-year, fixed cost and cover afforded by catastrophe bonds could be a viable option for the NFIP especially as flood risk bonds should be well received bycapital market investors in the current investment climate.
———————————————————————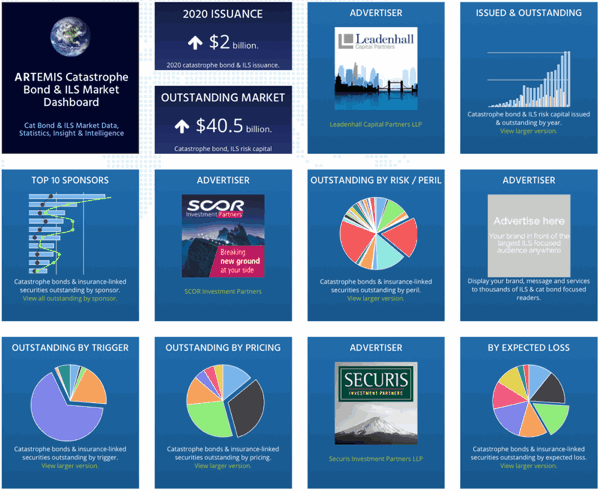 Analyse catastrophe bond market issuance using the Artemis Dashboard and Charts.
We've tracked more than 650 cat bonds and related ILS transactions since 1996, all of which are included in our extensive Deal Directory.
Use the Artemis Dashboard and our Cat Bond Market Charts to analyse this market!