The average return for insurance-linked securities (ILS) funds was 0.57% in July 2018, which is close to the long-term average for the month of 0.59% and was helped by little in the way of impacts for the market from catastrophes and weather events in July, as well as less negative development on 2017 loss events.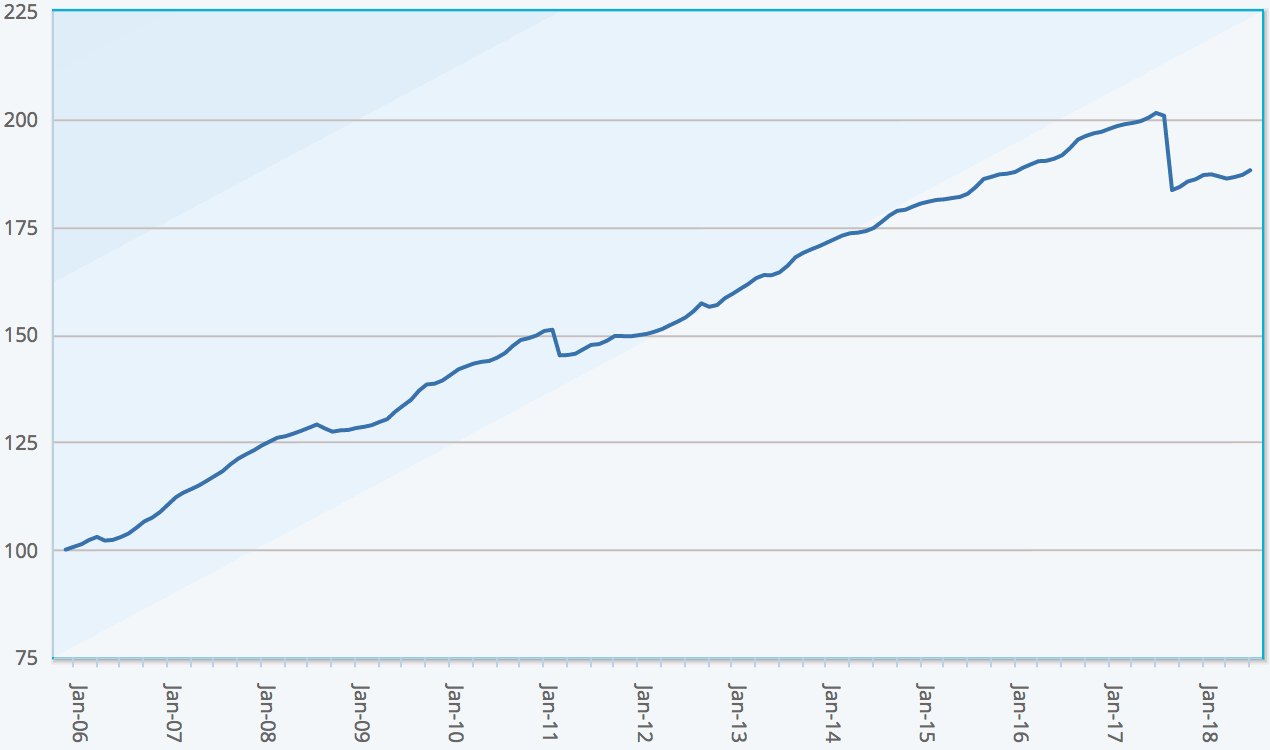 ILS fund returns in July were the best so far this year, with the average return of 0.57% narrowly beating January's 0.54%.
Throughout the year so far, ILS funds have been beset by negative loss development and the need to strengthen reserves for last year's catastrophes and hurricanes, which means returns have been depressed at times, especially for those funds investing in private ILS and collateralized reinsurance.
As a result of this, year-to-date average ILS fund returns remain depressed at just 1.13%, the second lowest in the thirteen year history of the Eurekahedge ILS Advisers Index.
Stefan Kräuchi, Founder of ILS Advisers explained the again divergent performance of the ILS funds tracked by the Index, "33 funds represented in the Eurekahedge ILS Advisers Index made positive returns. The difference between the best and the worst performing fund was 2.19 percentage points."
This may actually have been the best month of the year, in terms of number of funds managing a positive return, with just one ILS fund having negative performance in July 2018.
Perhaps a little surprisingly that one negative ILS fund was a pure catastrophe bond fund, Kräuchi explained to Artemis. It's likely this single cat bond fund is either catching up to others in marking down its portfolio, or accounting for particularly large holdings in the Heritage sponsored Citrus Re cat bonds whose losses continue to develop. The negative cat bond fund was down by -0.66% for the month.
"Pure cat bond funds as a group were up by 0.38% while the subgroup of funds whose strategies include private ILS increased by 0.73%. Private ILS funds underperformed pure cat bond funds by 2.80 percentage points on annualized basis year-to-date," Kräuchi said.
On the more positive side of the ILS market, the best performing ILS fund of July was a private ILS fund which reported a return of 1.53% for the month.
Kräuchi explained that it is not 2018 loss events that has driven the lower ILS fund performance, saying, "On the whole, the first half of the year has been quite benign. The total insured losses were USD 18bn, 40% lower than the historical average of USD 30bn. The hurricane season is relatively quiet at the moment and we don't see events during the month having material impact on performance of the funds."
He also noted that there could be further impacts to come for private ILS focused funds, particularly those invested in industry loss warrants, as we wrote recently here.
But he also pointed out that this could work in some ILS funds favour, as they tend to use the ILW as a hedging instrument themselves and so some may benefit from payouts as the industry loss for hurricane Irma develops.
"The loss creep of Hurricane Irma may cause a payout of some ILW contracts that could benefit some ILS funds which bought hedges earlier," Kräuchi said, adding that, "Such a hedge is normally valued in distress in the side pockets which are only relevant to investors who experienced the losses."
ILS fund managers will be hoping that solid returns continue for the remainder of the hurricane season and that losses remain minimal, as this will help them to recoup some of their lost ground.
By the end of 2018 we could see a significant divergence in performance of ILS funds and it will be interesting to look at the differences between fund performance, as it may show more clearly who was the most exposed to the 2017 hurricanes and also who hedged themselves the best, factors which are not always made that clear in the ILS market.
As a result, end-investors in ILS funds stand to learn a lot as 2018 progresses and the final development of the 2017 losses filters through.
You can track the Eurekahedge ILS Advisers Index on Artemis here, including the new USD hedged version of the index. It comprises an equally weighted index of 34 constituent insurance-linked investment funds which tracks their performance and is the first benchmark that allows a comparison between different insurance-linked securities fund managers in the ILS, reinsurance-linked and catastrophe bond investment space.
———————————————————————

View all of our Artemis Live video interviews and subscribe to our podcast.
All of our Artemis Live insurance-linked securities (ILS), catastrophe bonds and reinsurance video content and video interviews can be accessed online.
Our Artemis Live podcast can be subscribed to using the typical podcast services providers, including Apple, Google, Spotify and more.
—————————————