Hurricane Matthew has now intensified into a Category 4 storm, with sustained winds of 130mph (as at Monday morning) and higher gusts, as it continues its westward track through the Caribbean. A northward turn has targeted major hurricane Matthew towards Haiti, Jamaica, Cuba and the Bahamas.

Hurricane Matthew has strengthened further as forecasted, with models suggesting a strong Category 3 or 4 hurricane will near the western tip of Haiti before heading for Cuba. Matthew had been forecast to strike Jamaica, but the island appears to have been spared a direct hit (according to the latest forecast, below).
Currently hurricane-force winds extend outward up to 25 miles from the center of hurricane Matthew, and tropical-storm-force winds extend outward up to 195 miles. The minimum central pressure has been most recently recorded at 943mb (on Monday morning).
Hurricane Matthew could hit Haite as a large, category 3 or greater hurricane Matthew later on Monday, after which Cuba is in the storms direct path.
Following Cuba hurricane Matthew will head into the Bahamas on Tuesday, still as a major hurricane, after which a northward track is expected but some uncertainty exist in the path.
With Caribbean waters warm hurricane Matthew should be able to maintain some intensity as a hurricane and could even re-intensify at times when it crosses sea instead of land, some forecasters say.
After the Bahamas the models largely show hurricane Matthew heading north, passing Florida and as it moves further up the U.S. coast this is where models diverge more and some show a landfall on the U.S. east coast.
It has to be noted that this is a long way out in the forecast window for hurricane Matthew and how the storm steers its way through the Caribbean will likely dictate some of its future track. The track is now more certain and for insurance, reinsurance and insurance-linked securities (ILS) markets it will be all eyes will be on Matthew after it passes through the Bahamas in case it heads for a U.S. coast encounter.
There are forecast model runs that show a Florida landfall, but these are considered outliers. The consensus at the moment is for a track through the Bahamas and then a northward track, but this could change so again, insurance, reinsurance and ILS interests should remain alert to Matthew's potential to surprise.
For western Haiti, a Category 3 or 4 hurricane strike could be devastating. Cuba looks unlikely to avoid a strike from Matthew, so interests in eastern areas of the country need to prepare for the storm.
Of course there are plenty of insurance interests at risk due to hurricane Matthew, with reinsurance capital also exposed. The parametric Caribbean Catastrophe Risk Insurance Facility (CCRIF) could be triggered for a payout should Matthew make a hit on Haiti or Jamaica and of course the CCRIF uses the reinsurance and ILS markets for its own risk transfer, including through its catastrophe bond.
Extreme levels of rainfall are expected with totals as high as 20 inches widely expected and the potential for isolated amounts as high as 40 inches, according to the NHC. That level of rainfall could be devastating in some areas of Haiti and Cuba. That could put the CCRIF parametric rainfall policies at risk, as well as the parametric tropical cyclone intensity coverage.
The latest from the NHC is below:
hazards affecting land
———————-
wind: hurricane conditions are expected to reach jamaica and haiti tonight, and eastern cuba tuesday. tropical storm conditions are expected to first reach jamaica and haiti later today and eastern cuba tonight, making outside preparations difficult or dangerous. preparations to protect life and property should be rushed to completion. tropical storm conditions are expected along the southern coast of the dominican republic within the warning area beginning today. tropical storm conditions are expected to
reach the southeastern bahamas early tuesday with hurricane conditions expected by late tuesday.

hurricane conditions are possible in the hurricane watch areas by tuesday night with tropical storm conditions possible on tuesday. tropical storm conditions are also possible in the tropical storm watch area in the dominican republic by late today.

rainfall: matthew is expected to produce total rain accumulations of 15 to 25 inches across southern haiti and the southwestern portion of the dominican republic, with possible isolated amounts of 40 inches. across eastern cuba and western haiti, total rain accumulations of 8 to 12 inches are expected with possible isolated maximum amounts of 20 inches. across eastern jamaica, total rainfall of 5 to 10 inches is expected, with isolated maximum amounts of 15 inches possible. this rainfall will likely produce life-threatening flash floods and mudslides.

matthew is expected to produce total rain accumulations of 8 to 12 inches over the southeastern bahamas, with isolated maximum amounts of 15 inches. matthew is expected to produce total rain accumulations of 2 to 5 inches, with isolated maximum amounts of 8 inches over the turks and caicos islands.

lower amounts are expected across the northeastern section of haiti and the dominican republic, with amounts ranging from 1 to 3 inches with isolated amounts around 5 inches.

storm surge: the combination of a dangerous storm surge and large and destructive waves could raise water levels by as much as the following amounts above normal tide levels…

southern coast of cuba east of cabo cruz, 7 to 11 feet
south coast of haiti, 7 to 10 feet
northern coast of cuba east of camaguey, 4 to 6 feet
jamaica, 3 to 5 feet
gulf of gonave in haiti, 3 to 5 feet
southern coast of the dominican republic, 1 to 3 feet
central and southeastern bahamas, 10 to 15 feet
So Matthew is certainly a hurricane to watch for the reinsurance and ILS industry, as well as being a danger to those in its path. Rainfall, landslides and storm surge are all going to be a dangerous threat to Haiti, Cuba and the Bahamas as Matthew passes.
There appears considerable uncertainty still in hurricane Matthews track, perhaps the reason for the fairly wide cone in the National Hurricane Center's map above. Here are a few examples.
———————————————————————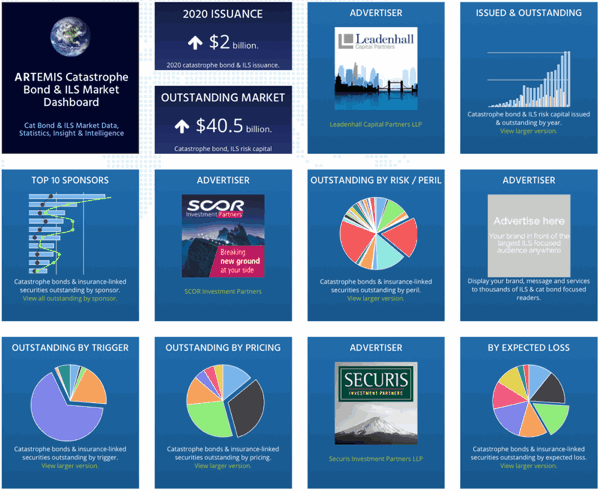 Analyse catastrophe bond market issuance using the Artemis Dashboard and Charts.
We've tracked more than 650 cat bonds and related ILS transactions since 1996, all of which are included in our extensive Deal Directory.
Use the Artemis Dashboard and our Cat Bond Market Charts to analyse this market!