The magnitude 6.7 earthquake that struck the Sapporo region of Hokkaido, Japan early this morning is not anticipated to cause any losses to the catastrophe bond market, despite as much as 8% of outstanding cat bond risk capital could be exposed to an earthquake striking the country.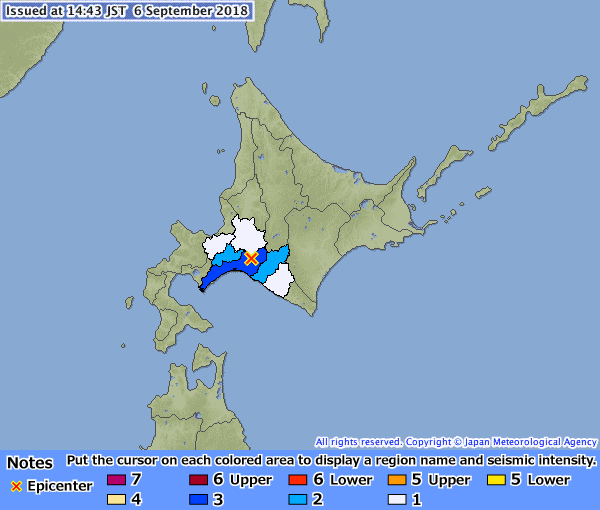 Artemis' data shows that currently 7.3% or more than $2.6 billion of outstanding cat bond risk capital is exposed to Japan earthquake risk, largely reinsurance deals for major Japanese primary insurers.
Another 0.9% or $320 million of the outstanding cat bond market is exposed to multiple perils in Japan, the majority of which include earthquake risks.
So in total as much as $3 billion of cat bond risk capital is potentially exposed to any Japanese earthquake loss event currently.
However, today's magnitude 6.7 earthquake in the Sapporo city region of Hokkaido, while resulting in significant shaking, landslides and clear damage to properties, is not expected to create sufficient losses in the insurance industry for the reinsurance protection provided by Japanese quake cat bonds to pay out.
Zurich based specialist insurance-linked securities (ILS) and catastrophe bond investment manager Plenum Investments said that, "The relatively low density of insured values in Hokkaido means that the North Island of Japan only has a very small contribution to the risk of these bonds.
"The recent earthquake will not, in our view, cause losses sufficient enough to trigger claims payments out of any CAT bonds. We therefore expect no negative impact for investors in CAT bonds or in the Plenum CAT Bond Fund."
Most of the Japanese earthquake catastrophe bonds are relatively low risk, sitting high in the sponsoring insurers reinsurance program and with low expected losses.
As a result it does seem unlikely that any cat bonds could be troubled by today's earthquake event in Hokkaido, but it remains far too early for assessments of the loss to insurers, or the potential for that to result in any reinsurance market impact at all.
Register today for ILS NYC 2023, our next insurance-linked securities (ILS) market conference. Held in New York City, February 10th, 2023.
Get a ticket soon to ensure you can attend. Secure your place at the event here!