The latest outbreak of California wildfires have now burned their way through more than 20,000 residential or commercial properties and minor structures and this is expected to result in economic losses of above $10 billion, if not much higher, according to broker Aon, with the majority expected to be insured.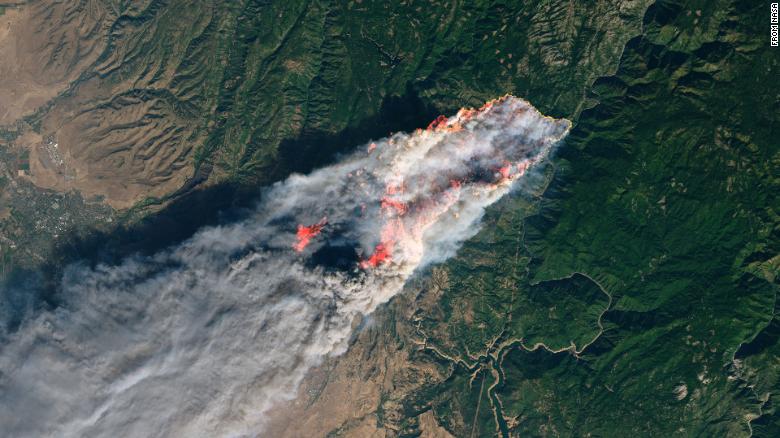 When we reported on the wildfires yesterday the number of structures destroyed, across residential, commercial and minor or other buildings, stood at 19,925. This morning that has risen further to 20,154 across the Camp, Woolsey and Hill fires.
All three fires are almost fully contained, with just the Camp wildfire at 95% still burning new acreage.
As the count slows, in terms of property damage, a better picture of the eventual insurance and reinsurance loss will become clear, with more accurate estimates possible likely next week.
But insurance and reinsurance broker Aon warns that the economic cost will likely "minimally exceed" $10 billion "if not much higher."
"A majority of these losses will be covered by insurance," the broker noted.
The broker further explained, "The scope of confirmed damage already attributed to the Camp and Woolsey fires indicates that a significant financial cost is likely; especially when compared to damage and resultant costs incurred from recent fires in 2017 and 2018 in Northern and Southern California. It is anticipated that the insurance industry is facing an aggregated payout reaching well into the billions of dollars (USD) from the November fires."
In fact, it's almost certain that these November 2018 wildfires in California will drive higher losses than any single month of wildfires in 2017, looking at the extent of the damage.
Once the extensive property destruction is added together with other vectors of insurable wildfire loss, such as automotive business lines, demand surge, business interruption, content claims and additional living-expense claims for those who have lost their homes, the total bill for insurance and reinsurance interests is expected to rise above $10 billion, suggesting an economic loss perhaps as high as $15 billion.
With catastrophe risk modeller RMS the only one to offer an industry loss estimate at this stage its data provides the best starting point.
RMS' estimate was based on around 12,000 homes and businesses being destroyed across the Camp and Woolsey wildfires, leading it to estimate that the eventual insurance and reinsurance industry loss from those two fires could reach between $9 billion and $13 billion.
Across those two wildfires, the total number of residential and commercial properties destroyed alone stands at 15,920, while there are another 4,232 so-called minor or other structures and types of property also destroyed. Properties damaged stands at another 918 across residential and commercial only.
It's becoming clearer with each day that the eventual industry loss, taking into account the other vectors of insurable loss from these wildfires, will likely settle towards the upper-end of RMS' range or event higher, as analysts at Goldman Sachs have suggested this week (reported by our sister publication here).
Aon noted that the reinsurance industry remains well-capitalised to pay for these losses, but on the back of a costly 2017 and already rising 2018 catastrophe loss figures there is likely to be further support for pricing at January 2019 renewals, especially from the retrocession market which could be particularly affected by the latest catastrophe activity (as also evidenced by Markel CATCo yesterday).
Read our previous coverage of this wildfire outbreak:
California's Camp wildfire toll rises by another 1,273 structures destroyed.
Wildfire losses should have been priced in, says Fitch.
Mutual & listed ILS funds decline further on wildfire threat.
Modest wildfire impact possible for Pioneer ILS Interval Fund.
Cat bond funds take NAV hit on wildfire cat bond write-down.
RMS puts Camp & Woolsey wildfire losses at up to $13 billion.
California wildfire losses rising, destruction nears 15,500 structures.
PG&E's wildfire cat bond marked down for loss, traded at distressed price.
USAA cat bond & private ILS also at risk of wildfire losses: Twelve Capital.
PG&E sued over Camp wildfire, putting Cal Phoenix Re cat bond in the frame.
Wildfires could cost insurers $5bn to $10bn: Credit Suisse analysts.
Wildfires to drive up to $6bn industry insured loss – Moody's.
Wildfire losses to hit record in 2018, pricing needs to change: A.M. Best.
Stone Ridge & CATCo fund prices dented by California wildfire threat.
Cat bond price volatility & discounts expected from wildfires: Plenum.
California wildfire most destructive ever, multi-billion losses expected.
View all of our Artemis Live video interviews and subscribe to our podcast.
All of our Artemis Live insurance-linked securities (ILS), catastrophe bonds and reinsurance video content and video interviews can be accessed online.
Our Artemis Live podcast can be subscribed to using the typical podcast services providers, including Apple, Google, Spotify and more.