Aon Benfield's catastrophe model development arm Impact Forecasting, have published their July 2011 Monthly Cat Recap report which looks at the natural catastrophes that occurred over the course of the month around the world.

The month of July saw an increase in the development of tropical cyclones worldwide, including tropical storms in the Atlantic and cyclones in the Asian basin.
Two typhoons affected Asia, Nock-ten which struck the Philippines, Vietnam and China and Ma-on which struck Japan. Losses were minimal with Nock-ten causing an estimated $113m in damages and Ma-on $50m.
Steve Jakubowski, President of Impact Forecasting, said: "During the month of July we began to see an uptick in global tropical cyclone activity. This is not surprising, given that we are approaching the traditional peak period of the Atlantic Hurricane Season during the months of August and September. Several parts of Asia were particularly affected by tropical cyclones during the month in the Northwest Pacific Basin, but the level of losses will probably be in line with reinsurers' expectations."
The monsoon continued to bring severe flooding to parts of Asia and China in particular. The Chinese Ministry of Civil Affairs pegged economic losses at $1.73 billion. South Korea also saw significant flooding, as we previously wrote about here, and that event is expected to cause losses in the hundreds of millions of dollars range.
Further severe weather across the U.S., particularly the midwest, plains and Rockies are expected to have caused insured losses of as much as $900m.
You can download the full report in PDF format here.
———————————————————————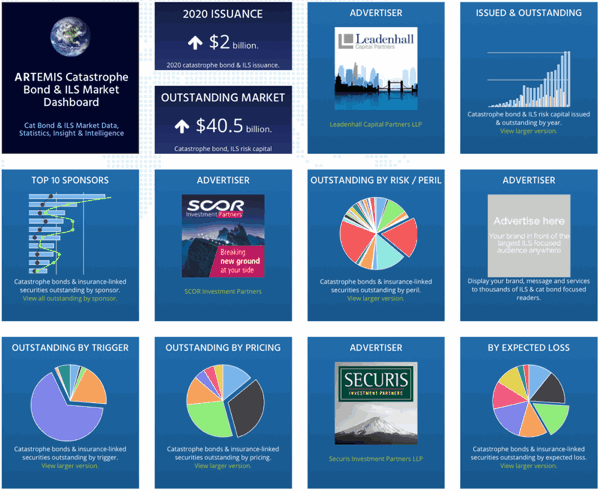 Analyse catastrophe bond market issuance using the Artemis Dashboard and Charts.
We've tracked more than 650 cat bonds and related ILS transactions since 1996, all of which are included in our extensive Deal Directory.
Use the Artemis Dashboard and our Cat Bond Market Charts to analyse this market!