ILS investors subscribing to allocate capital to the $300m Galileo Re Ltd. (Series 2016-1) international multi-peril catastrophe bond issuance from XL have given a clear signal that the appetite for higher-yielding notes is strong.

The Galileo Re cat bond, which has remained $300m in size, offers three tranches of notes with each providing investors a coupon higher than the cat bond market's average of recent years. As a result investors have helped XL achieve very attractive pricing on this bond, with the coupon settling at the low-end of an already reduced price guidance range.
The Galileo Re 2016-1 cat bond launched almost two weeks ago, with insurance and reinsurance group subsidiary XL Insurance (Bermuda) Ltd. sponsoring a deal to secure reinsurance and retrocession for losses from U.S. named storms, U.S. earthquake, Canada earthquake, European windstorm.
The 2016-1 issuance from Galileo Re covers three layers of the XL reinsurance and retro program with the protection for each of the covered perils on an annual aggregate and industry loss trigger basis, across three years to the end of 2018.
According to data from the Artemis Deal Directory, just 7 tranches of cat bond notes out of 55 issued in the last year had a coupon of 7% or greater. The Galileo Re 2016-1 cat bond came to market with all three tranches offering above that, making it a deal that saw high investor demand.
At launch Class A, the riskiest $100m tranche of notes with an expected loss (EL) of 8.66% at the base case or 9.52% at the WSST sensitivity case, had initial price guidance of 13.75% to 14.25%. That was reduced to a range of 13.5% to 13.75% a couple of days ago. We now understand that the $100m Class A notes priced at 13.5%, the bottom of the reduced range and so offer investors a multiple of 1.56 times the base case EL, or 1.42 times the sensitivity case.
The $100m Class B tranche of notes, the middle risk layer, which has an expected loss of 4.57% base or 4.96% sensitivity, launched with price guidance of 9.25% to 9.75%, which was subsequently lowered to 9% to 9.25%. This tranche has again priced at the low-end of reduced guidance at 9%, we understand. That results in a multiple of 1.97 times the base EL, or 1.81 times the sensitivity case.
Finally, the lowest risk $100m Class C tranche of notes to be issued by Galileo Re in this 2016-1 cat bond, which has an expected loss of 2.85% base or 3.09% sensitivity, launched with guidance of 7.25% to 7.75%, before being tightened to 7% to 7.25% has now been priced at the low-end again, at 7%. This tranche offer investors a multiple of 2.46 times the base EL, or 2.27 times the sensitivity case.
So it's clear, with the average multiple of issuance on a base case last year coming in at 2.5 times the EL, slightly up on 2014's average of 2.46 times EL, investors are willing to take on much more risk in return for a higher coupon, such as offered by this Galileo Re 2016-1 cat bond.
In fact the three tranches tell a story here. As the risk level comes down, from tranche A to C and the coupon reduces the multiple rises. As you get down to the 7% coupon Class C tranche the multiple, at the base case, in fact rises back to around the average of 2014/15 issuance at nearly 2.5 times the expected loss. The average multiple across the three tranches comes out at 2.
The lower the coupon the higher the multiple demanded, it seems, as investors show a willingness to be compensated less return, on a risk adjusted basis, for a higher coupon. However, across a year's issuance the multiples have stabilised somewhat around the 2.5x mark and it will be interesting to see how this develops for 2016 as we move through the year.
This $300 million Galileo Re Ltd. (Series 2016-1) catastrophe bond from XL Group is scheduled to complete next week. You can read all about this deal and every other catastrophe bond in the Artemis Deal Directory.
Artemis' Q4 2015 Catastrophe Bond & ILS Market Report – Outright market growth continues
We've now published our Q4 2015 catastrophe bond & ILS market report.
This report reviews the catastrophe bond and insurance-linked securities (ILS) market at the end of the fourth-quarter of 2015, looking at the $1.525 billion of new risk capital issued and the composition of the cat bond & ILS transactions completed during Q4 2015. The report also includes a review of the full year 2015 issuance and commentary from co-editor GC Securities.
———————————————————————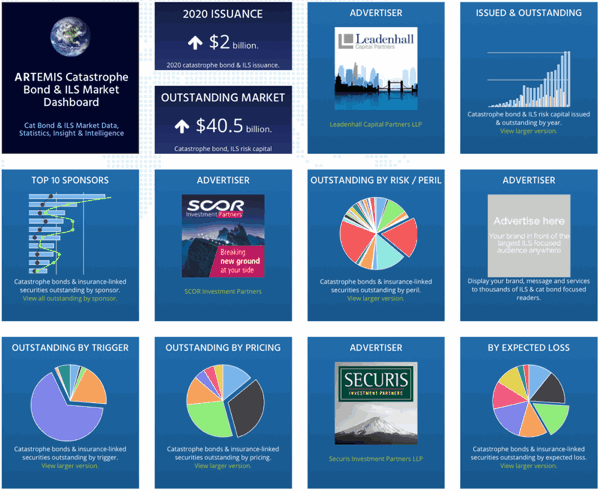 Analyse catastrophe bond market issuance using the Artemis Dashboard and Charts.
We've tracked more than 650 cat bonds and related ILS transactions since 1996, all of which are included in our extensive Deal Directory.
Use the Artemis Dashboard and our Cat Bond Market Charts to analyse this market!