A shallow earthquake has struck the Osaka region of Japan this morning, causing three deaths and 200 injuries. The quake was originally measured at M6.1 but the USGS subsequently downgraded it to M5.3, but the fact it was shallow meant shaking was seen to be severe, causing damage to buildings and stopping operations at factories.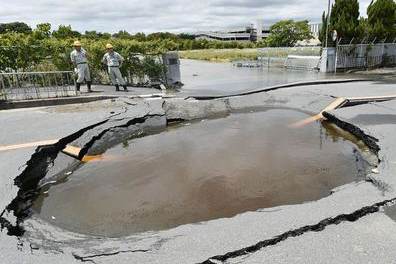 The earthquake occurred at a shallow depth of 13km beneath the highly populated Osaka area and was categorised as a lower 6, described as a quake in which it is hard to remain standing, on the Japanese seismic intensity scale of 1 to 7.
Officials warned of the risk of collapsing houses and landslides in the wake of Monday mornings earthquake, also saying that further quakes cannot be ruled out in the region as this may have occurred on a fault which has not been seen to be active in recent history.
There have been reports of some damage to buildings, train stations, underground pipework, and a number of fires that broke out in residential areas.
Trains and bullet train or shinkansen lines were stopped for checks for damage in the wake of the earthquake, but the majority have now restarted.
A number of major factory complexes have been closed while checks are made for damage and services such as electricity and gas were cut while checks were made for the integrity of the systems. There were no reports of damage to nuclear power plants in the area affected.
Residents reported superficial damage to homes in the main, with structural damage said to be relatively limited, which will keep the insurance and potential reinsurance loss from the event lower. There have been reports of some people trapped under a collapsed building, but this appears a relatively isolated incident.
The earthquake struck in a region of high industrial and commercial activity, featuring dense residential property as well, so provides a reminder of the threat posed by quakes in Japan and the potential for high levels of economic loss, as well as impacts to the insurance and reinsurance industry.
As it stands, it looks as if any losses from this quake will be relatively minor.
Today's earthquake follows a magnitude 4.6 in southern Gunma Prefecture on Sunday, and a magnitude 4.5 that hit Chiba Prefecture on Saturday.
More details on this quake from the USGS.
Register now for our upcoming Singapore conference. Tickets on sale here.


View all of our Artemis Live video interviews and subscribe to our podcast.
All of our Artemis Live insurance-linked securities (ILS), catastrophe bonds and reinsurance video content and video interviews can be accessed online.
Our Artemis Live podcast can be subscribed to using the typical podcast services providers, including Apple, Google, Spotify and more.