The insurance and reinsurance market-wide loss from recent hurricane Florence's impacts in the Carolina's and surrounding region of the United States is expected to be in a range from $2.8 billion to as much as $5 billion and this is including an NFIP flood insurance claims estimate.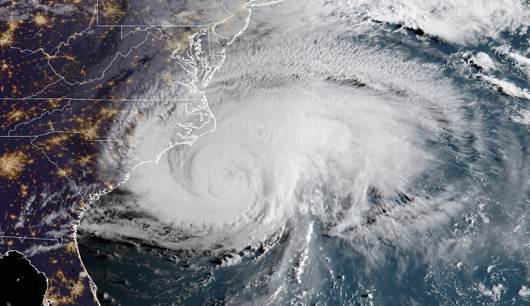 As this estimate from RMS is for insured losses caused by wind, storm surge, and inland flood damage across North Carolina, South Carolina, and Virginia, including the estimated losses to the National Flood Insurance Program (NFIP), it suggests there is no chance of the NFIP's reinsurance program or catastrophe bond being triggered by Florence.
Update: Corelogic has put the NFIP's reinsurance program back in the frame with its latest estimate of insured losses from Florence.
RMS said that hurricane Florence's winds caused between $1.3 billion and $2.6 billion of insured losses, storm surge and inland flooding (private insured) losses are estimated at $700 million to $1.2 billion, while the NFIP's claims burden is estimated as $800 million to $1.2 billion.
At the top-end of that NFIP estimate, of a $1.2 billion NFIP flood insurance loss, it will fall well short of the $4 billion reinsurance program trigger and even further below the $5 billion trigger point for the FloodSmart Re Ltd. catastrophe bond.
The FloodSmart Re cat bond has been marked down in broker pricing sheets and some cat bond investors portfolios, as the NFIP's claims burden was awaited. This is the first good indication that the NFIP's flood reinsurance program and flood cat bond are both safe from any losses at all, so we'd expect the FloodSmart Re cat bond price recovery will occur when the next lot of broker pricing sheets are released this week.
RMS' estimate for an up to $5 billion insurance market loss is relatively aligned with fellow risk modeller AIR Worldwide's estimate for an industry impact of up to $4.6 billion (excluding the NFIP's losses).
RMS's figures include property damage and business interruption caused by hurricane Florence's wind, coastal flooding, and inland flooding to residential, commercial, industrial, and automobile lines of business. It also importantly factors in post-event loss amplification, a major factor in some hurricane loss events.
Highlighting the protection gap which is evident even in the most developed economies, RMS said that Florence will result in a significant amount of uninsured precipitation-induced flood losses.
The company expects that a huge 70% of flood losses from hurricane Florence's rains will be uninsured.
RMS expects the overall economic loss from Hurricane Florence's wind, storm surge, and rainfall-driven flooding will be between $6 billion and $11 billion, suggesting that overall the hurricane's damages will only be roughly 50% insured.
That's a sad reflection of the lack of insurance penetration even in the most advanced economies such as the United States and demonstrates the work required to promote insurance as a financial tool for lives and livelihoods.
RMS said that it expects prolonged recovery efforts after Florence will create business interruption and amplify losses in the coming weeks and months, making inclusion of post-event loss amplification in the estimate more important.
The company also notes that assignment of benefits (AOB) issues could rear their head, in relation to hurricane Florence, suggesting the potential for some claims inflation to occur.
Mohsen Rahnama, Chief Risk Modeling Officer, RMS, commented, "We were fortunate that Florence weakened considerably before making landfall as a Category 1 hurricane. While wind-driven damages will still be sizable, the story of this storm is the flood impacts. Florence's slow moving nature brought historic rainfall and flooding to the Carolinas.
"Florence is yet another large inland flood event that exposes the protection gap for flood insurance in the U.S. NFIP take-up rates are less than 1 percent for the vast majority of non-coastal counties in the North and South Carolinas. Thus, we expect much of the losses in interior portions of the region to be largely uninsured."
The fact that the NFIP's reinsurance program and cat bond is not expected to be affected by hurricane Florence will be welcome news for those backing them and allocating capital.
Also read:
– Quota shares & retro the most likely source of ILS losses from Florence: Fitch.
– ILS fund values stabilise, some recover, after hurricane Florence.
– ILS industry recognised Florence would not be market-changing.
– Hurricane Florence wind & storm surge loss up to $4.6bn: AIR.
– FedNat won't tap reinsurance for hurricane Florence losses
– Florence saw less ILW and live cat activity than other recent storms.
– Hurricane Florence loss only $2.5bn (ex-NFIP), says Karen Clark & Co.
– Reinsurance & ILS market share of Florence loss likely minimal: Analysts.
– Cat bond index only fell 1.15% on hurricane Florence threat.
– Hurricane Florence's 1,000 year rains flood the Carolina's.
– Model mean projects $3bn to $3.5bn wind loss from Florence.
– Hurricane Florence re/insurance losses will be manageable: S&P.
– Hurricane Florence wind & surge insured loss potential put at $3bn to $5bn: Corelogic.
– A handful of cat bonds traded on hurricane Florence approach.
– ILS fund values fluctuate on Florence, threat now reduced.
View all of our Artemis Live video interviews and subscribe to our podcast.
All of our Artemis Live insurance-linked securities (ILS), catastrophe bonds and reinsurance video content and video interviews can be accessed online.
Our Artemis Live podcast can be subscribed to using the typical podcast services providers, including Apple, Google, Spotify and more.