The magnitude 5.3 shallow earthquake that struck the Osaka region a week ago, is now reported to have caused damage to at least 6,750 structures in the local area, while an estimate from the USGS gives a 41% chance of the economic losses from the quake surpassing $1 billion.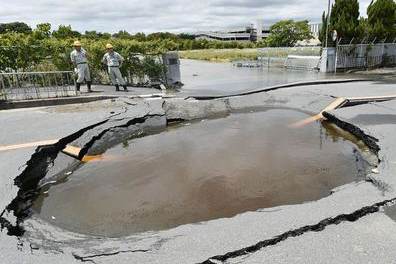 The earthquake occurred in the early hours of June 18th at a shallow depth of 13km beneath the highly populated Osaka area
It was categorised as a lower 6, described as a quake in which it is hard to remain standing, on the Japanese seismic intensity scale of 1 to 7.
While the USGS originally reported it as a M6.1 earthquake, but it was subsequently downgraded to M5.3.
However, the relatively shallow nature of the earthquake meant that ground shaking and movement was seen to be severe, causing damage to buildings and stopping operations at factories.
This is now said to have resulted in widespread structural damage to buildings in the area, with local authorities reporting that 6,235 structures were damaged in Osaka Prefecture itself, and another 531 elsewhere in the region, including in Kyoto Prefecture, according to the Japan Times.
It's now said that five people died during the recent earthquake in Osaka, with another 400 reported injured.
The damage assessment process for buildings is ongoing and slow progress has been reported. This is critical for insurance and any later reinsurance claims.
The USGS reported that there is a 41% chance that the economic losses from the earthquake are greater than $1 billion, with a 10% chance of them being greater than $10 billion. However, the USGS estimates it is most probable that the eventual economic cost is between $100 million and $1 billion.
At that level of impact the insurance industry will not find it hard to pay claims, while some reinsurance support could be called on to assist. But the impact will not negatively affect the insurance and reinsurance market, especially as Japan's government plays a role in underwriting earthquake risks in the country.
Experts said that the earthquake damage could have been much greater, had the ground motion waves been longer than occurred. This could have destroyed many more structures and made the levels of structural damage much greater, experts in seismic risk at the University of Tsukuba said.
Register for our upcoming Singapore ILS conference before tickets run out!


Register today for ILS NYC 2023, our next insurance-linked securities (ILS) market conference. Held in New York City, February 10th, 2023.
Get a ticket soon to ensure you can attend. Secure your place at the event here!