The precise location where hurricane Michael makes its expected Category 4 landfall today will have a significant bearing on the potential for ILS impacts, according to Twelve Capital, who also estimated on a stochastic basis that the eventual industry loss could be $5 billion to as much as $15 billion.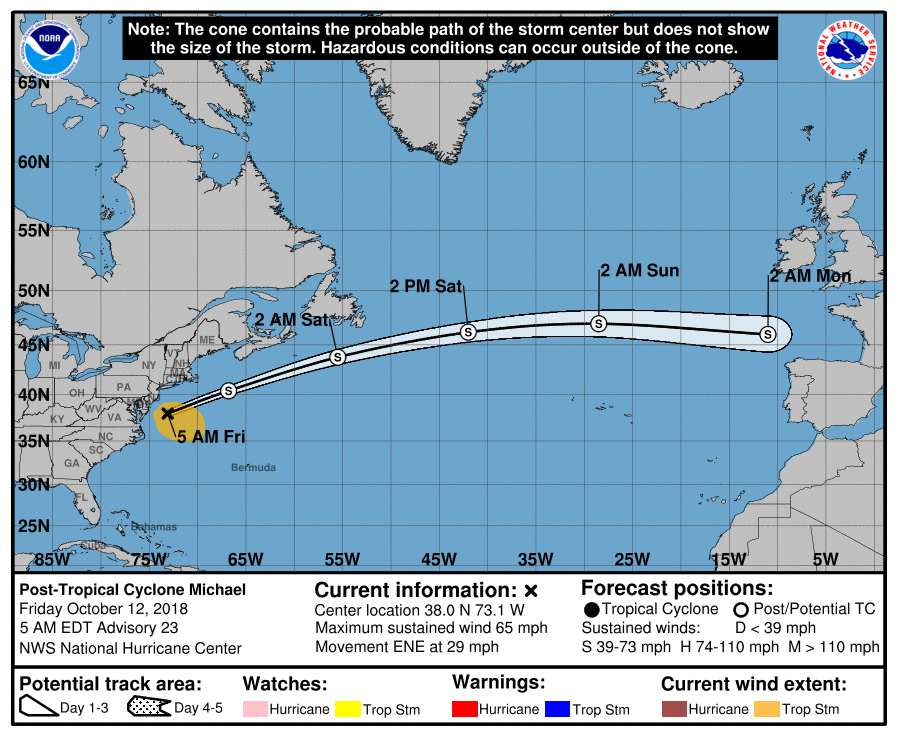 Specialist ILS fund manager Twelve Capital explained that for insurance-linked securities (ILS) or catastrophe bonds to be impacted you would typically need to see a hurricane coming ashore in a densely populated area.
Hurricane Michael is currently targeting less densely populated parts of the Florida Gulf Coast, however any wobbles on approach could exacerbate the eventual insurance, reinsurance and ILS market loss.
Also a factor for the ILS market is the state of aggregate structures. Some have been eroded, but in many cases these aren't the transactions considered to be the most at-risk in this part of Florida anyway. Many others, which are more Florida focused, have not yet seen significant aggregate deductible erosion yet this year.
As a result, the impact to ILS and catastrophe bonds remains very uncertain and the landfall location will be key in determining this.
Twelve Capital said, "The potential impact on insurance-linked securities' (ILS) portfolios is not yet clear. The low population density at the landfall location, and the fact that aggregate trigger structures have not suffered from meaningful prior attachment erosion this season will reduce the potential impact on Cat Bond and private ILS portfolios."
The ILS fund manager noted that given the recent strengthening of hurricane Michael to Category 4 with sustained winds of 145 mph, the earlier simulated or stochastic loss runs based on historic and simulated storms may have been punching too low with their estimates of $1 billion to $3 billion.
In fact, Twelve Capital says, "Using a blend of similar stochastic event and historic scenario analysis, Twelve Capital estimates insured industry losses at between USD 5 – 15bn. Please note that any estimate prior to landfall cannot be accurate and ultimate losses might be substantially different."
Given the uncertainty, the manager states, "It is extremely challenging to provide a base case for what the impact of Hurricane Michael might have on the ILS market in general and on the Twelve Capital managed portfolios in particular."
Given the Florida property market is the most prevalent source of risk in the catastrophe bond universe, Twelve Capital notes that of course some positions should be considered exposed.
However, "Ultimately we expect only a small number of positions to have a realistic probability of suffering a loss," the manager explains.
Specifically on industry loss catastrophe bonds, Twelve Capital notes that many have low payout factors in place for Florida, or require high industry losses in the tens of billions. Additionally, there has not been much (if any) aggregate erosion for most of these bonds in their current annual risk periods.
As a result, "For the vast majority of PCS-linked Cat Bonds with aggregate structures, we do not therefore expect any write-downs from this event given that little or no prior attachment erosion has occurred. As always, any event loss above the franchise deductible would, however, result in a temporary attachment erosion reducing the buffer available for additional events occurring before the annual reset date."
For indemnity ILS structures, which includes collateralised reinsurance layers and instruments such as sidecars, Twelve Capital notes the uncertainty again, with respect to landfall and how big the eventual property loss is.
But wherever Michael comes ashore, given the region it is set to strike the ILS fund manager said, "We expect a better loss experience for indemnity structures compared to Hurricane Irma, given the lower population density in the expected affected areas."
Finally, the manager says that investors should expect to see some volatility in fund valuations, whether losses are incurred or not, as there could be temporary spread widening and uncertainty itself can result in making valuations much more challenging.
Also read:
– $13.4bn of property value exposed to hurricane Michael storm surge.
– Florida primary & national insurers most exposed to hurricane Michael.
– Hurricane Michael a very different storm to Florence: RMS.
– More intense hurricane Michael potentially doubles economic impacts.
View all of our Artemis Live video interviews and subscribe to our podcast.
All of our Artemis Live insurance-linked securities (ILS), catastrophe bonds and reinsurance video content and video interviews can be accessed online.
Our Artemis Live podcast can be subscribed to using the typical podcast services providers, including Apple, Google, Spotify and more.