The industry loss to insurance and reinsurance interests from hurricane Michael is estimated to be somewhere between $6.8 billion and $10 billion by RMS, with the majority driven by wind damage to residential properties.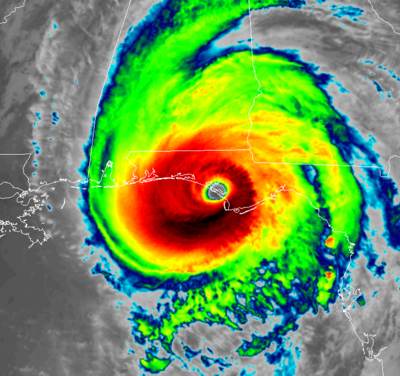 RMS' industry loss estimate for hurricane Michael aligns with others that suggest the final bill to the insurance sector will be somewhere around the $8 billion mark.
RMS' estimate includes insured wind and storm surge damage caused by hurricane Michael across Florida, Georgia and other states in the U.S. that were affected by the storm. It also includes the estimate of losses for the NFIP, which at between $250 million and $750 million is well below the NFIP's reinsurance program and catastrophe bond attachment points.
Hurricane Michael's winds are estimated to have caused between $6.4 billion and $8.7 billion of the total bill, while storm surge flooding and damages are thought to have caused $400 million to $1.3 billion of insured losses.
As we said, RMS' estimate is aligned with others that tend to point towards a final bill of around $8 billion for insurance and reinsurance interests.
AIR Worldwide had put the industry loss at $6 billion to $10 billion, Karen Clark & Co. at close to $8 billion, while Corelogic's estimate was somewhat lower at up to $5 billion.
The industry loss estimate from catastrophe risk modelling firm RMS factors in property damage and business interruption losses to residential, commercial, industrial, and automobile lines of business, as well as post-loss amplification and certain non-modeled losses are accounted for.
Michael Young, Vice President of Model Management, RMS, commented on the storm, "This truly was one of the few hurricanes that have exceeded building-level design wind speeds for the region. Within the tragedy of this event, there are many opportunities to see effective wind and flood mitigation measures and learn how to re-build better and stronger."
Dr. Mark Powell, Vice President of Modeling, RMS, also said, "This event reminds me of the damage level we saw in Hurricane Andrew back in 1992. The intensity of Michael caused significant damage, however Michael was relatively concentrated, unlike hurricanes such as Florence or Harvey which were spread out over a larger geographical area. Michael's speed and intensity is one of the main reasons that losses from Michael are far more wind and storm surge related rather than flood. In fact, I would not be surprised if Michael is re-classified as a Category 5 event after further analysis."
Hurricane Michael will once again demonstrate that there is a protection gap even in the most hurricane exposed regions of the United States, as RMS pegs the economic loss from the storm at between $8.5 billion and $14 billion.
So as much as 50% of all economic losses may not be covered by insurance at all, despite the wealth of both traditional reinsurance and alternative capital seeking exposure to this peril and easily able to absorb this risk.
This economic loss estimate does not include infrastructure and items such as roads and utilities, or government-owned property, which are often self-insured or uninsured.
Hence it's clear that the insurance, reinsurance and insurance-linked securities (ILS) market could be doing so much more, if only those responsible for the uninsured component of the loss could be encouraged to protect their assets, infrastructure and ultimately the communities and people in the region.
Also read:
– AIR puts hurricane Michael industry loss estimate at $6bn to $10bn.
– No cat bond loss expected from hurricane Michael: Plenum.
– ILS market exposure to hurricane Michael not material: Fitch.
– Hurricane Michael loss estimate raised by Corelogic, now up to $5bn.
– 2018 losses with Michael still an earnings event, pricing to be unfazed: S&P.
– Hurricane Michael insured loss to be close to $8bn: Karen Clark & Co.
– Reinsurance to take more of Michael's losses than Florence's: KBW.
– ILS funds fell less than re/insurance stocks as hurricane Michael hit Florida.
– Hurricane Michael losses unlikely to move the re/insurance market.
– Hurricane Michael landfall site a key factor for ILS & cat bond exposure.
– More intense hurricane Michael potentially doubles economic impacts.
– Hurricane Michael a very different storm to Florence: RMS.
– Florida primary & national insurers most exposed to hurricane Michael.
View all of our Artemis Live video interviews and subscribe to our podcast.
All of our Artemis Live insurance-linked securities (ILS), catastrophe bonds and reinsurance video content and video interviews can be accessed online.
Our Artemis Live podcast can be subscribed to using the typical podcast services providers, including Apple, Google, Spotify and more.