Catastrophe risk modelling firm RMS has highlighted some key differences between hurricane Michael, which is heading for the Florida coast and expected to be a major category storm at landfall, with recent hurricane Florence.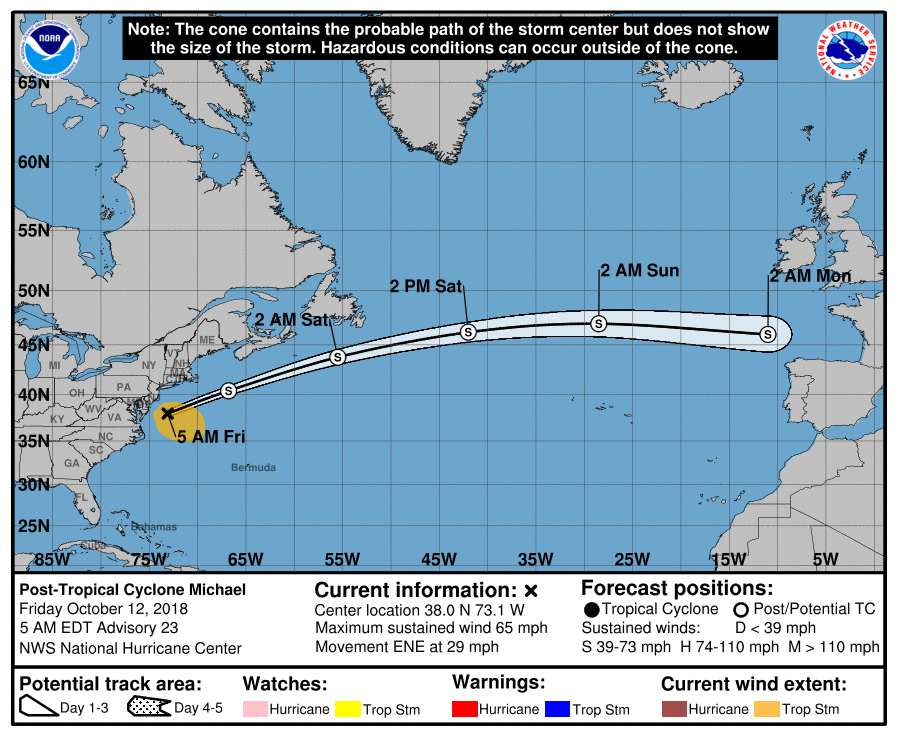 Key among these is the pace that hurricane Michael is moving at, meaning it will not drop the massive amounts of rainfall that the Carolina's experienced with Florence.
However this pace also means that hurricane Michael may maintain tropical storm wind speeds as it tracks north and affects the Carolina's before heading back out to sea off the U.S. east coast.
Hurricane Michael is a major Category 3 storm with 120 mph sustained winds, heading for a landfall on the Florida Panhandle Gulf Coast and it is expected to maintain its strength, with only a little fluctuation likely.
As a result and given the expected landfall location, RMS notes that, "The Big Bend region of Florida is typically at risk to high amounts of storm surge from hurricanes due to its shallowly sloped coastline, which allows for water to build up as the storm moves ashore. Severe storm surge is a possibility over a large portion of the Florida panhandle, with the highest surge expected to the right of the storm's track. Current projections show large swaths of storm surge greater than nine feet above ground forecast across the region."
As we wrote earlier today, as much as $13.4 billion of property reconstruction values stand in hurricane Michael's path.
RMS said that, "Because Michael is expected to be a fast-moving storm, the potential impacts are almost the opposite of what we saw in Florence."
Further explaining, "A fast-moving storm mitigates the possibility of high rainfall totals that would be caused by a slow-moving or stalled storm. At present, a maximum of 10 inches of rain is forecast to fall over the Florida panhandle and southern Georgia. By comparison, Florence caused upwards of 20-30 inches of rain across much of the Carolinas. Thus, flood is not expected to be a large loss driver with Michael.
"Up to four to six inches of rain is currently expected over the Carolinas, still recovering from the floods caused by Hurricane Florence.
"A fast-moving storm also ensures that the storm can maintain some intensity farther inland. Michael is forecast to retain at least tropical storm strength as it crosses Georgia and the Carolinas, so Michael's overall wind swath could be broad. By contrast, Florence weakened quickly at landfall and its slow forward motion restricted its most damaging winds closer to the landfall point."
So the damage footprint of hurricane Michael will be very different and aside from the threat posed by a Category 3 landfall and storm surge the impacts inland from wind damage could be much more significant than seen with recent Florence.
RMS looked at where hurricane Michael is due to make landfall and found that the most similar storms were Category 2 Kate in 1985, which is estimated to have caused around a $1 billion insurance and reinsurance market loss, or Category 3 Eloise in 1975 which is estimated to have resulted in a $3.6 billion insurance and reinsurance industry loss.
Another notable storm which falls just outside the cone of uncertainty for Michael is hurricane Opal from 1995, which is estimated as a $4.1 billion industry loss.
It should be stressed that these figures aren't estimates of losses for hurricane Michael, rather simulated estimates for older storms in the same area that factor in today's exposure levels.
Also read:
– $13.4bn of property value exposed to hurricane Michael storm surge.
– Florida primary & national insurers most exposed to hurricane Michael.
View all of our Artemis Live video interviews and subscribe to our podcast.
All of our Artemis Live insurance-linked securities (ILS), catastrophe bonds and reinsurance video content and video interviews can be accessed online.
Our Artemis Live podcast can be subscribed to using the typical podcast services providers, including Apple, Google, Spotify and more.