The main Floridian primary insurers as well as some of the largest national U.S. insurance firms are among the most exposed to the impacts of hurricane Michael, according to A.M. Best data.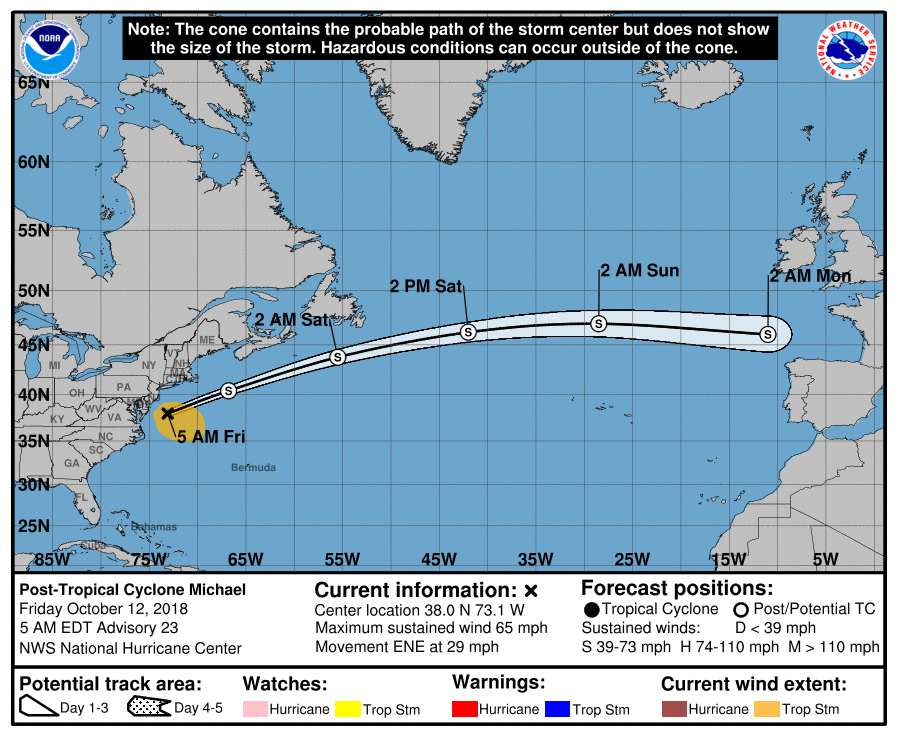 Hurricane Michael is on track for a major category storm landfall on the Florida Gulf Coast, with 120 mph winds currently and having reached Category 3 major storm status.
As a result the hurricane poses a broad threat to primary insurers with the highest market share in the region, which brings into play many of the major Floridian primary insurers, which of course use significant amounts of both traditional and collateralized reinsurance, as well as some of the U.S. primary majors.
Among the companies deemed most at risk of losses from hurricane Michael's impacts are Floridian primary insurers Universal Insurance Holdings, Citizens Property Insurance, FedNat Insurance, Heritage Insurance Holdings, Security First, United (or UPC Insurance), Florida Peninsula, HCI and Progressive.
Joining that list with the highest exposure to Florida hurricanes are State Farm, Tower Hill, USAA, AIG, Chubb, Allstate and Liberty Mutual.
All of the above feature in the top-20 homeowners insurers in Florida by market share, based on A.M. Best data.
All of the above also have large reinsurance programs, with the Floridians typically handing off a large share of their losses to the traditional and ILS fund markets, while the national insurers have larger retention levels.
In Alabama, which also stands to experience some of the brunt of hurricane Michael, it is the national majors that dominate, with State Farm the top, followed by Alfa Insurance, Allstate, USAA, Farmers Insurance, Travelers, Liberty Mutual, Nationwide leading the state for homeowners coverage.
As well as homeowners insurers, the private flood insurance market will also be exposed to hurricane Michael's storm surge and rainfall.
In Florida this market is led by Assurant, AIG, FM Global, Berkshire Hathaway, Zurich, Swiss Re, Alleghany, Liberty Mutual, Progressive and Chubb, who make up the top-10 by market share. Assurant has a huge 34% of the market for private flood cover in Florida, according to A.M. Best, so is most exposed.
In Alabama it is largely the same group, but FM Global leads the way with a 20% market share of private flood risk in the state.
Commercial multi-peril is another area of interest, especially in Florida, where United (UPC) leads the pack, followed by Zurich, Heritage, Nationwide, Liberty Mutual, Chubb, Markel and others.
In the auto insurance market, Berkshire Hathaway dominates Florida for private passenger policies, with 28% of the market, while State Farm has 25% in Alabama. Progressive is a leader in commercial auto policies in both states.
Many of these names are regular ceding companies to the ILS and catastrophe bond market, hence there is a significant exposure for ILS funds and their investors, should hurricane Michael prove to be a large loss.
What constitutes a large loss? Well anything above $10 billion would result in a meaningful hit to some ILS and collateralized reinsurance positions and could also put certain catastrophe bonds and sidecars in play.
Any aggregate structures still on-risk and with qualifying losses from throughout the year so far could also find themselves in play at that level of industry loss.
Single digit billions of industry loss would mean primary insurers retaining more of the exposure and perhaps less retrocession coming into play.
But it remains impossible to forecast the loss, hence all we can do is provide some insight into potential exposures and whose portfolios are at-risk while hurricane Michael tracks towards Florida.
Read our latest update on hurricane Michael here.
Also read:
– $13.4bn of property value exposed to hurricane Michael storm surge.
Register today for ILS Asia 2023, our next insurance-linked securities (ILS) market conference. Held in Singapore, July 13th, 2023.
Get a ticket soon to ensure you can attend. Secure your place at the event here!