Japanese typhoons should be expected to cause insurance and reinsurance industry losses of more than $15 billion at least every 20 years, according to analysis by Karen Clark & Company.


The catastrophe risk modelling firm analysed typhoon Jebi and found that based on its high-resolution Japan Typhoon Reference Model, KCC believes that industry losses such as that seen with Jebi are at least a 1-in-20 year event, perhaps lower.
KCC said that typhoon Jebi's wind footprint actually affected over $30 trillion of property value, including building, contents and direct business interruption values.
With such high exposures Japan could have much higher typhoon loss events, KCC believes, saying that based on current property values and insured exposures Jebi is actually not the most expensive typhoon to have every hit the country.
KCC's analysis shows that typhoon Nancy in 1961 and typhoon Isewan in 1959 would both have caused larger insurance and reinsurance market losses if they occurred again today.
Using its Japan typhoon model, KCC found that both of these storms would cause more than $20 billion of industry insured losses if they were repeated in 2019.
As a result, the company says typhoon Jebi was not an unprecedented loss event, when viewed in a historical context.
While a $15 billion industry loss from a Japanese typhoon should be expected at least every 20 years, KCC also notes that the insurance and reinsurance sectors can expect significantly larger losses at longer return periods.
Typhoon Faxai is the latest Japan typhoon concern for the insurance, reinsurance and of course insurance-linked securities (ILS) market, with the first official estimate for insured losses pegging them in a range from $3 billion to as much as $7 billion.
———————————————————————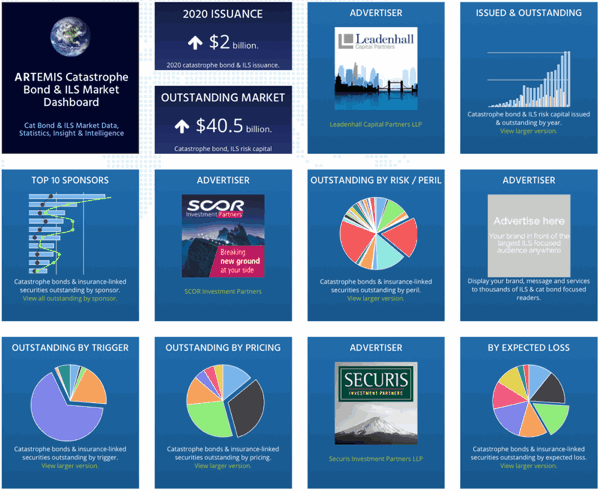 Analyse catastrophe bond market issuance using the Artemis Dashboard and Charts.
We've tracked more than 650 cat bonds and related ILS transactions since 1996, all of which are included in our extensive Deal Directory.
Use the Artemis Dashboard and our Cat Bond Market Charts to analyse this market!