Differences between estimates are again evident in the catastrophe risk modelling space, as Corelogic delivers a figure for hurricane Florence's flood insurance industry losses that suggests the NFIP's flood reinsurance program is still in the frame to be triggered.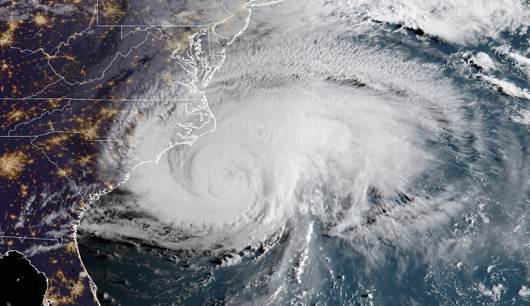 Earlier today we wrote that the industry loss estimate from RMS seemed to put the National Flood Insurance Program's (NFIP) reinsurance program and cat bond in the clear, given the firm pegged the total market loss at $2.8 billion to $5 billion, including $800 million to $1.2 billion for the NFIP.
That estimate from RMS suggests there is no way that the NFIP's $4 billion reinsurance program trigger would be reached, nor the $5 billion trigger point for the FloodSmart Re cat bond, but Corelogic's assessment differs.
Corelogic puts the total insurance and reinsurance market flood loss from hurricane Florence at between $6 billion and $10 billion, across North and South Carolina and Virgina.
The uninsured flood loss is vast, by Corelogic's reckoning, at $13 billion to $18.5 billion.
But the most interesting aspect of Corelogic's estimate is that the firm suggests that the NFIP is facing claims in the region of $2 billion to as much as $5 billion from hurricane Florence, the upper end of which will put the NFIP flood reinsurance program in the frame and possibly even the FloodSmart Re cat bond.
The NFIP's reinsurance program provides $1.46 billion of flood reinsurance, covering 18.6% of losses between $4 billion and $6 billion, and 54.3% of losses between $6 billion and $8 billion. The NFIP's recent FloodSmart Re cat bond sits a little higher up, covering 3.5% of its losses between an attachment point of $5 billion and exhaustion of $10 billion through the riskier $175 million tranche of Class B notes, and 13% of its losses between $7.5 billion and $10 billion through a $325 million tranche of Class A notes.
So Corelogic's NFIP loss estimate is significantly higher than RMS', in fact even the lower end of Corelogic's Florence NFIP loss estimate is above the top-end of RMS', putting the reinsurance program back in the frame.
In total, Corelogic's figures imply an economic hit from hurricane Florence's storm surge and inland flooding of $19 billion to as much as $28.5 billion, while the wind component is assumed only to be $1 billion to $1.5 billion.
While the NFIP figures diverge, with Corelogic's estimate much higher than RMS', the wind damage estimates differ in the other way, as RMS estimated that hurricane Florence's winds caused between $1.3 billion and $2.6 billion of insured losses.
The divergence between these two estimates is so significant as to make it very difficult for the industry to know where the eventual market-wide loss will settle.
Fellow catastrophe risk modeller AIR Worldwide estimated an insurance and reinsurance industry impact of up to $4.6 billion (excluding the NFIP's losses) for hurricane Florence, so sits somewhere in between.
Wherever the loss eventually settles the divergence in estimates once again highlights the differences between catastrophe risk models, drives home that they can only ever provide directional insights and makes it clear that in order to fully understand the true magnitude of a catastrophe event impact, the industry has to wait for the claims to be settled.
Also read:
– RMS says Florence loss under $5bn, suggests NFIP reinsurance not triggered.
– Quota shares & retro the most likely source of ILS losses from Florence: Fitch.
– ILS fund values stabilise, some recover, after hurricane Florence.
– ILS industry recognised Florence would not be market-changing.
– Hurricane Florence wind & storm surge loss up to $4.6bn: AIR.
– FedNat won't tap reinsurance for hurricane Florence losses
– Florence saw less ILW and live cat activity than other recent storms.
– Hurricane Florence loss only $2.5bn (ex-NFIP), says Karen Clark & Co.
– Reinsurance & ILS market share of Florence loss likely minimal: Analysts.
– Cat bond index only fell 1.15% on hurricane Florence threat.
– Hurricane Florence's 1,000 year rains flood the Carolina's.
– Model mean projects $3bn to $3.5bn wind loss from Florence.
– Hurricane Florence re/insurance losses will be manageable: S&P.
– Hurricane Florence wind & surge insured loss potential put at $3bn to $5bn: Corelogic.
– A handful of cat bonds traded on hurricane Florence approach.
– ILS fund values fluctuate on Florence, threat now reduced.
View all of our Artemis Live video interviews and subscribe to our podcast.
All of our Artemis Live insurance-linked securities (ILS), catastrophe bonds and reinsurance video content and video interviews can be accessed online.
Our Artemis Live podcast can be subscribed to using the typical podcast services providers, including Apple, Google, Spotify and more.