Broking, structuring, arrangement and placing activities related to capital market transactions, such as catastrophe bonds, declined slightly during the second-quarter of 2018, but this was offset by strong reinsurance revenue growth across Aon's Reinsurance Solutions unit.

The broker explained that, "Reinsurance Solutions organic revenue increased 8% compared to the prior year period driven by net new business generation globally in treaty and strong growth in facultative placements, partially offset by a modest decline in capital markets transactions."
The fickle nature of the catastrophe bond market's issuance cycle, which is often less predictable than traditional reinsurance volumes and can ebb and flow with market conditions, can cause dips in broker revenues.
But Aon continues to see its Aon Securities unit acting as structuring agents, or bookrunners, for a significant number of cat bond transactions and currently sitting at the top of our ILS investment banking and broking leaderboard.
In Q2 2018 the cat bond market did dip, albeit only very slightly, compared to the record issuance seen in Q2 2017. However the $5.151 billion of issuance of cat bonds and related insurance-linked securities (ILS) from 26 deals that Artemis recorded during the second-quarter, was not that far below the $7 billion of new risk capital brought to market from 29 deals in the prior year period.
Aon explained in the brokers quarterly results today, "The prior year quarter benefited from record catastrophe bond issuance during the mid-year renewal season. Market impact was modestly unfavorable on results in the second quarter, as modest upward pressure in loss-exposed geographies was more than offset by record levels of capital."
For the first six months of the year Aon Reinsurance Solutions organic revenue is up 6%, following strong reinsurance business growth and also a good deal of catastrophe bond activity through both the first and second quarters.
The slight dip in Q2 still saw the cat bond market reaching $10 billion of issuance in recent weeks, only the second double-digit year ever, and Aon continues to benefit from this income as it maintains its spot at the top of our ILS brokers and structurers leaderboard.
The capital market related reinsurance business provides valuable fee income for the major brokers and reinsurer owned capital markets units. With the ILS market standing poised for further growth and expansion, the brokers like Aon stand very well positioned to capitalise on this by putting expertise to work to assist investors in accessing insurance risk.
———————————————————————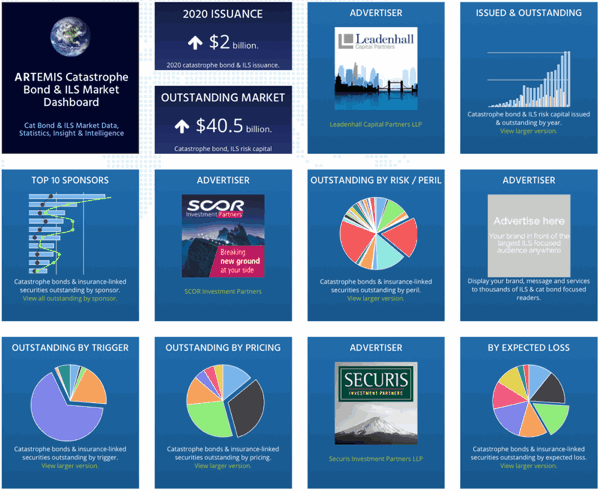 Analyse catastrophe bond market issuance using the Artemis Dashboard and Charts.
We've tracked more than 650 cat bonds and related ILS transactions since 1996, all of which are included in our extensive Deal Directory.
Use the Artemis Dashboard and our Cat Bond Market Charts to analyse this market!