Vita Capital VI Limited (Series 2015-1) – Full details:
With this transaction, Artemis understands that Swiss Re is seeking at least $100 million of excess (or extreme) mortality retrocessional reinsurance protection through the issuance of a single tranche of Series 2015-1 Class A notes by recently established Cayman Islands special purpose vehicle Vita Capital VI Limited.
The notes issued by Vita Capital VI will be exposed to extreme mortality events in Australia, Canada and the UK over a 5 year term from January 2016. The notes can be triggered by an extreme mortality event that raises a mortality index above predefined trigger points. The mortality index will be weighted by age and gender.
Investors in these notes will be at risk of an increase in age and gender-weighted mortality rates exceeding a specified percentage of the predefined index in the covered areas.
In order for the mortality index triggers for each covered area to be breached, the index must breach a trigger level of 120% for Australia, 115% for Canada and 120% for the UK, we're told.
In terms of probabilities, the Vita Capital VI 2015-1 notes have a probability of attachment of 1.24%, a probability of exhaustion of 0.81% and an expected loss of 0.99%.
The notes are being offered to investors with coupon price guidance of 2.75% to 3.25%, which even at the lower end of guidance would equate to a multiple of at least 2.78 times the EL.
We understand that the notes feature a dropdown facility for year five, which would reduce the mortality index trigger level. This may be a way to make the coverage more valuable in the last year of its term. Swiss Re has redeemed previous Vita mortality cat bonds before the end of their lives due to the fact that pandemic coverage becomes reduced at that stage (more on this here).
We understand that these Vita Capital VI mortality insurance-linked notes will cover all mortality events, including deaths caused by terrorism events. However, the main threats and contributors to expected loss to such mortality cat bond notes remains pandemic diseases and outbreaks of severe influenza.
Update 1:
The Vita Capital VI 2015 mortality cat bond remained at $100m in size.
However the pricing moved slightly below the mid-point of the 2.75% to 3.25% initial guidance, resulting in a coupon of 2.9%.
With the notes expected loss of 0.99% and the 2.9% coupon, the multiple investors will benefit from is 2.93 times the expected loss. So, while the pricing declined slightly from the middle of guidance, the multiple to be paid to investors is above average for 2015's cat bond deals.
———————————————————————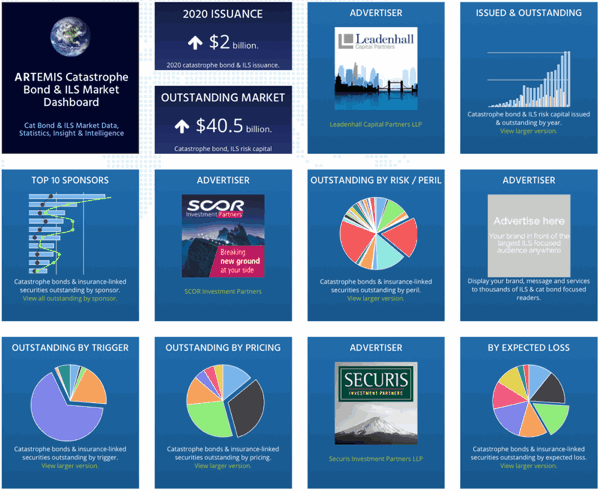 Analyse catastrophe bond market issuance using the Artemis Dashboard and Charts.
We've tracked more than 650 cat bonds and related ILS transactions since 1996, all of which are included in our extensive Deal Directory.
Use the Artemis Dashboard and our Cat Bond Market Charts to analyse this market!