Dom Re IC Limited 2017 – Full details:
Solidum Partners have completed a private catastrophe bond transaction, a $14.8 million Dom Re IC Limited 2017, which has become the first such securitisation to be settled using a private blockchain.
The transaction was issued using Solidum Partners Guernsey-domiciled transformer vehicle Solidum Re (Guernsey) ICC Limited, with one cell named Dom Re IC Limited hosting the underlying reinsurance contract and acting as the issuer for the $14.8 million of notes.
The private blockchain, named "ILSBlockchain" by Solidum, has effectively replaced the role of a traditional settlement system, such as a Euroclear or DTC, providing a peer-to-peer way to manage settlement of the note issuance.
The transaction saw Dom Re IC Limited issue $14.8 million of notes, due 2023, representing a securitisation of a reinsurance contract, to 6 investors, which are all ILS funds.
The underlying reinsurance contract, a mid-year renewal, features U.S. wind risk from an unnamed ceding company.
Solidum Re acted as the paying agent and common depository for the permanent global note, as well as the blockchain permission grantor and blockchain sponsor.
Investors then subscribed for the notes paying into a Guernsey trust and on the issue date Solidum Re created cryptographically-certificated notes on the ILSBlockchain, which the investors were then able to execute on delivery-vs-payment on the ILSBlockchain to acquire the newly created notes, peer-to-peer with the paying agent Solidum Re.
So that means the notes now effectively sit on the ILSBlockchain, meaning that any secondary trades would also have to be registered in the underlying distributed ledger technology.
———————————————————————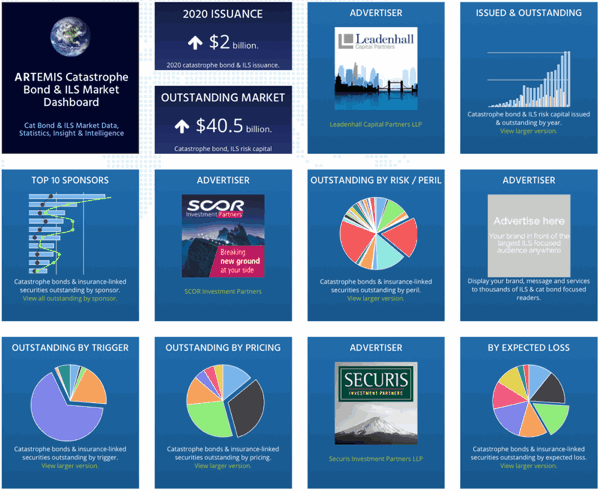 Analyse catastrophe bond market issuance using the Artemis Dashboard and Charts.
We've tracked more than 650 cat bonds and related ILS transactions since 1996, all of which are included in our extensive Deal Directory.
Use the Artemis Dashboard and our Cat Bond Market Charts to analyse this market!