At least two people have died and currently over 30 unaccounted for following a strong magnitude 6.7 earthquake that struck the Sapporo area of Hokkaido in Japan this morning, causing damage to property, infrastructure and landslides that have engulfed more dwellings.


The earthquake struck at 3:08am local time around 39 miles southeast of the regional capital city of Sapporo. The magnitude 6.7 earthquake struck at a depth of 40 km and shook buildings and resulted in significant landslides, as well as throwing 3 million people into darkness due to power outages.
According to the Japan Times,  the earthquake logged as an upper 6 on the Japanese seismic intensity scale to 7 in the town of Abira and lower 6 in the city of Chitose, both situated to the southeast of Sapporo.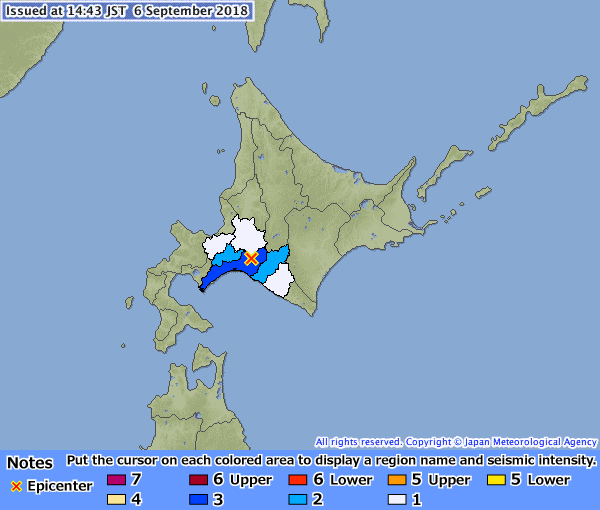 Damage to dwellings has been reported and landslides have engulfed houses in the mountainous region, with images coming out of Sapporo showing cracks in the street and subsided houses.
Japan has been beset by natural events in recent months, with an extreme heatwave, extreme rainfall and flooding, as well as a number of typhoons that culminated in recent days with the strongest in 25 years.
Insurance and reinsurance interests in the region will be watching accumulations of losses carefully now, as some local insurers are set to report higher recoveries from their reinsurance sources.
Today's earthquake while devastating for the local region, does not look set to create a particularly large insurance industry loss, or have a significant impact on reinsurance interests, aside from any aggregation of further losses through all natural perils covers that may be in force in the region.
For ILS market interests the main risk of exposure to this and other recent events will also be through aggregation of losses across the multiple severe events that have hit Japan in recent months. With an active typhoon season in progress, it could increase the chance of aggregate reinsurance layers attaching.
View all of our Artemis Live video interviews and subscribe to our podcast.
All of our Artemis Live insurance-linked securities (ILS), catastrophe bonds and reinsurance video content and video interviews can be accessed online.
Our Artemis Live podcast can be subscribed to using the typical podcast services providers, including Apple, Google, Spotify and more.