The losses suffered by Japanese insurance firms after the extreme rainfall and flooding in July are rising into the billions of dollars, with leading companies having reported their losses recently and claims already paid having surpassed $715 million.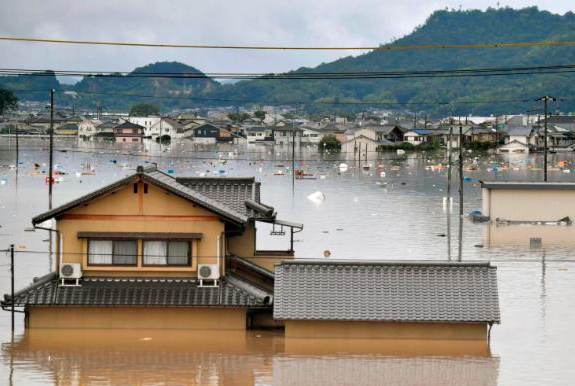 The rainfall in early July caused at least 200 deaths in Japan, as well as the flooding of thousands of homes and commercial properties across parts of the country.
Reinsurance broker JLT Re said that the end result was expected to be industry losses in the billions of U.S. dollars and the latest figures from primary insurers operating in Japan backs up that suggestion.
Japanese insurance group MS&AD Holdings reported that it has incurred gross losses of close to US $600 million (as reported by our sister publication) from the extreme rainfall and flooding, but the company said that after reinsurance this would have little impact on its financial results.
This suggests that MS&AD expects reinsurance capital to assist in paying these claims and it's expected that a reasonable share of the loss will be passed on, which could also see some ILS funds or third-party capital providers exposed.
Also last week, fellow Japanese insurer Tokio Marine & Nichido Fire, a subsidiary of the Tokio Marine Holdings group of companies, revealed direct incurred losses from the extreme rainfall and floods amounting to roughly US $452 million (again, reported by our sister publication), but this does not include the insurers recoverable amount from ceded reinsurance.
So again the reinsurance market and any exposed third-party capital providers will be paying a share of Tokio Marine & Nichido Fire's losses from the July rains and flooding.
Additionally, Sompo Holdings subsidiary Sompo Japan Nipponkoa said that it expects that domestic natural catastrophe and weather losses during the quarter including the flooding event will amount to roughly US $345 million net.
It's expected that the July extreme rainfall and flooding in Japan will make up a significant proportion of that total quarterly impact and being an estimate of net losses that will be after reinsurance capital has taken a share.
Finally, the General Insurance Association of Japan (GIAJ) has reported that claims payments are progressing swiftly for the rainfall and flood damage, with already almost 53,000 accepted insurance and claims and over US $715 million already paid out.
The way the insured losses are stacking up for the big three Japanese primary insurers suggests that the total industry loss from the Japanese rainfall and floods will approach US $2 billion, perhaps even higher.
View all of our Artemis Live video interviews and subscribe to our podcast.
All of our Artemis Live insurance-linked securities (ILS), catastrophe bonds and reinsurance video content and video interviews can be accessed online.
Our Artemis Live podcast can be subscribed to using the typical podcast services providers, including Apple, Google, Spotify and more.