The amount of alternative capital in the global reinsurance industry, so capital provided by insurance-linked securities (ILS) funds, investors and structures, has now reached a new high of $95 billion and as a result contributes 16% of global reinsurance capital, according to Aon.

Alternative capital growth in reinsurance continues to outpace traditional reinsurance capital, with the amount of alternative capital counted by Aon's capital markets unit Aon Securities growing by almost 7% during the first-quarter of 2018, from $89 billion at the start of 2018 to reach this new high of $95 billion at March 31st.
In the same quarter traditional reinsurance sector capital remained flat at $515 billion, reflecting the fact that growth in market share was seen as largest among the ILS funds and third-party capital vehicles at this time.
Following the major losses from hurricanes and catastrophes in 2017, the ILS fund market was quick to reload and upsize investor allocations to the reinsurance sector, while at the same time traditional insurers and reinsurers have been using increasing amounts of non-traditional capital as well.
Overall, the growth in alternative capital helped global reinsurance capital to increase by just under 1% to reach $610 billion by the end of March 2018.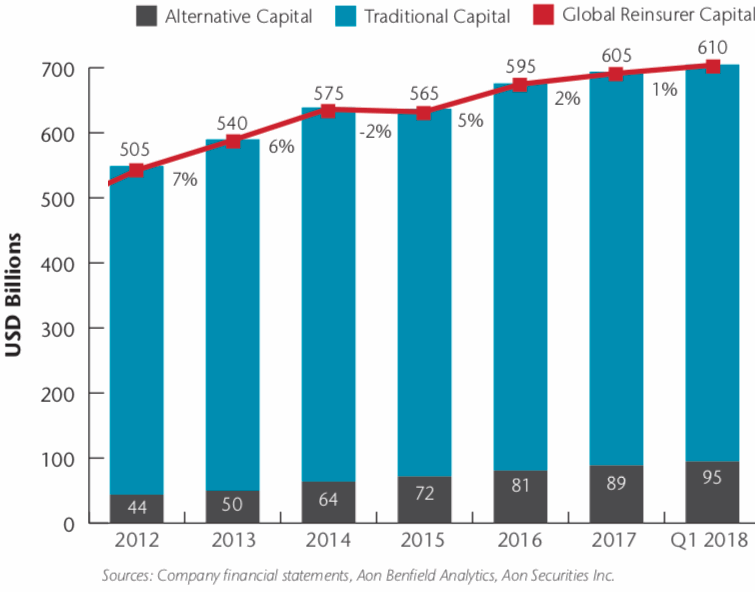 Most impressive though, is the fact that alternative or ILS capital contributed almost 16% of global reinsurance capital at the end of March 2018, up from almost 15% at the start of the year.
At this stage in the year, following the mid-year renewals and after more capital raising from ILS funds, Artemis now sees the amount of alternative capital in reinsurance as surpassing the $100 billion mark.
Given the growth seen in reinsurer operated third-party capital vehicles, as well as the expansion in sidecars, quota shares and the core ILS fund market around the mid-year renewals, it's safe to assume that alternative capital has grown well beyond the $100 billion and that its contribution as a percentage of global reinsurer capital is higher as well.
View all of our Artemis Live video interviews and subscribe to our podcast.
All of our Artemis Live insurance-linked securities (ILS), catastrophe bonds and reinsurance video content and video interviews can be accessed online.
Our Artemis Live podcast can be subscribed to using the typical podcast services providers, including Apple, Google, Spotify and more.