The recent flooding in Japan caused by extreme levels of rainfall could result in an insurance and reinsurance industry loss as high as $4 billion, according to catastrophe risk modeller AIR Worldwide.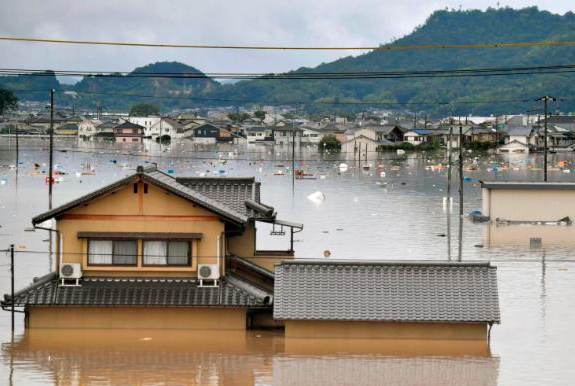 The latest estimate for the impact to the insurance and reinsurance market from the severe flooding in western Japan is the first from one of the main third-party catastrophe risk modelling firms.
Other estimates have opted for an industry loss expectation "in the billions", such as from reinsurance broker JLT Re, while as we reported last week the losses suffered by Japanese insurance firms after the extreme rainfall and flooding in July are likely into the billions of dollars.
But AIR Worldwide has published an industry loss estimate based on its cat modelling analysis that calls for the eventual insurance industry loss to be somewhere from JPY 284 billion (US $2.6 billion) and JPY 423 billion (US $4 billion), which is a significantly higher range than has been discussed before.
AIR explains that after, "Successive heavy downpours from June 28 onward, several days of record-breaking rainfall until July 8 led to widespread inland flooding in more than 30 prefectures across western and south-central Japan," adding that the Japan Meteorological Agency (JMA) called the flooding "a level we have never experienced."
As well as damage to property and infrastructure from the torrential rainfall, flooding, rivers breaking their banks, and landslides, AIR notes that there was "considerable business interruption" as well.
In addition more than 200 lives were lost in the flooding, making it the deadliest flood since 1982 and the deadliest catastrophe since the Tohoku earthquake and tsunami.
The result was in excess of 46,000 residential buildings destroyed, damaged, or inundated by flood waters, according to data issued on August 8th by the Japanese Fire and Disaster Management Agency (FDMA).
In addition the widespread business interruption, particularly to auto and electronics manufacturers, will exacerbate the eventual bill for insurance and reinsurance interests.
AIR said that its modelled loss estimate for re/insurance market losses from the June 28th to July 8th 2018 rainfall and flood event of between JPY 284 billion (US $2.6 billion) and JPY 423 billion (US $4.0 billion) consists of insured damage to property structures and contents (residential, commercial, industrial, and agricultural or mutual), as well as automobile damage.
However, this modelled loss estimate does not include business interruption, despite the specific mentions of it here, or landslide, losses to land, infrastructure losses, construction or erection all-risks, marine hull or cargo, and demand surge.
Hence the eventual actual impact to insurance and reinsurance interests will definitely be higher than wherever AIR eventually pegs it within this range, as business interruption in particular promises to add some hundreds of millions of dollars of industry loss at least.
Also read:
– Japanese insurer losses from July rains & floods rise into the billions.
– Japan flood losses estimated as in the billions: JLT Re.
———————————————————————

View all of our Artemis Live video interviews and subscribe to our podcast.
All of our Artemis Live insurance-linked securities (ILS), catastrophe bonds and reinsurance video content and video interviews can be accessed online.
Our Artemis Live podcast can be subscribed to using the typical podcast services providers, including Apple, Google, Spotify and more.
—————————————