The eventual insurance, reinsurance and perhaps ILS fund industry losses from hurricane Michael's strong Category 4 landfall on the Florida Gulf Coast yesterday are unlikely to be sufficient to move the market, according to brokers, rating agencies and analysts.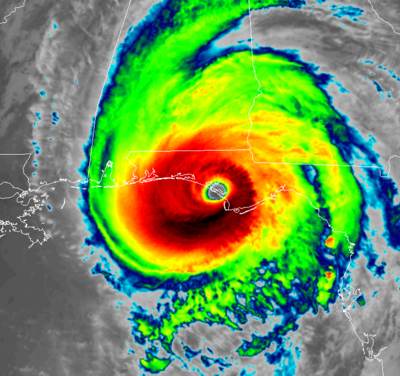 Analysts at Keefe, Bruyette & Woods said that while hurricane Michael could have modestly pressured the share prices of exposed P&C insurers and reinsurers, which was seen yesterday as equity indices tracking the sector and Bermudian reinsurance firm share prices fell, it won't be a particularly major event for the market.
KBW's analysts said that they expect the sector's overall insured losses will be manageable and will have limited impact on property reinsurance pricing at the renewals ahead.
Meanwhile, broker Willis Towers Watson said that while hurricane Michael could have a short-term impact on the sector, it is "not expected to be market moving."
Gary Marchitello, head of Property Broking at Willis Towers Watson, explained, "Hurricane Michael will definitely have a short-term impact and create short-term insurance market disruption. This is a storm with unprecedented wind speeds hitting the Florida Panhandle, coming on top of Hurricane Florence with another six weeks of hurricane season left. However, even if Michael were to reach the $20 billion range in losses, the well-capitalized insurance industry would be able to ultimately absorb these losses. As we saw with Hurricanes H-I-M in 2017, $100 billion in insured losses did not really rock the market long term."
It's seems that hurricane Michael's eventual loss tally for the insurance and reinsurance sector is most likely to be in the single-digit billions of dollars, how high up remains uncertain.
Late yesterday Corelogic pegged the wind and storm surge insurance industry loss at up to $4.5 billion, although this was a pre-landfall assessment so did not factor in how the storm tracked after landfall.
The big unknown here is just how much property damage has been caused inland, as Michael tracked into Georgia and onwards still with hurricane force winds. This large damage swathe could mean that estimates rise when new ones are released using the post-landfall data.
Buckingham Research analysts noted that expectations based on hurricane Michael's forecast path before landfall was that the storm's impacts were not likely to be enough to avert pricing pressure discussion at the Baden-Baden Reinsurance Meetings in just over one weeks time.
However the Buckingham Research team did note that insurers gross losses could be significantly reduced through their liberal use of reinsurance protection.
J.P. Morgan analysts said that the industry loss would likely be manageable for the P&C insurance industry, based on a pre-landfall forecast and that losses would likely largely fall within re/insurers catastrophe budgets for Q4.
This is one of the benefits of a diversified global reinsurance market, that means even storms as severe as hurricane Michael can see their losses spread around the globe, making the impacts more manageable and not retained regionally.
Rating agency A.M. Best also provided an update yesterday afternoon U.S. Eastern time, but this appears to have been written in advance of the landfall of hurricane Michael.
A.M. Best said that, "Although Florida's insurance market-share leaders possess strong levels of risk-adjusted capitalization that should provide a buffer against Hurricane Michael losses, insurers, reinsurers and ILS investors could face significant losses."
The rating agency also said that it, "Does not anticipate a large number of rating actions related to Hurricane Michael, as catastrophic events such as this one already have been considered in insurance companies' current ratings and outlooks. Insurers with the largest market shares in U.S. states to be hit by Hurricane Michael have considerable exposures, but these are manageable given each company's overall policyholder surplus."
Property insurers that A.M. Best rates have also minimised their exposures in the area hurricane Michael affected, but the agency adds, "The question of how the state's relatively new, Florida-specific insurers might withstand the impact of substantial insurable losses caused by Hurricane Michael remains."
They also said that the hurricane could apply some pressure to reinsurers, although given the broad use of retrocession, capital markets protection and also the extremely well-capitalised nature of the market right now, this does not seem that likely to pressure anyone but the weakest and most catastrophe exposed of reinsurance firms.
A.M. Best rightly notes Florida's continuing assignment of benefits problems, saying that hurricane Michael could exacerbate it as, "The difficulties property writers have been encountering may get worse before any efforts to curtail the recent trend can take hold."
The rating agency does suggest that, "Investors in catastrophe bonds and other types of insurance-linked securities could also suffer financial losses due to damages stemming from Hurricane Michael."
However, any exposure for the ILS market is likely to be reasonably small, given the landfall location and it still seems that primary insurers will retain the majority of the loss, with reinsurance firms and some retrocessionaires most of the rest (some of which could be capital markets backed).
Where the capital markets could take another share is areas like reinsurance sidecars, which have already been seeing some losses from recent global catastrophe events, or private ILS quota shares, where investors can take a share of a re/insurers loss exposure to a storm like Michael.
It does remain important to note that hurricane Michael is still an ongoing loss event and claims filing, assessment and quantification will take some time, especially given the rapid inland track with hurricane force winds.
In fact, as Michael moved on to impact areas such as Tallahassee and further into Georgia with near 100mph hurricane force winds the hence damage potential continued long after landfall and loss amounts will have increased as Michael tracked further inland.
Given the long period of impacts, hurricane Michael still had 90 mph winds almost 5 hours after landfall, establishing the actual damage impacts and industry loss is going to take some time. This storm could also have some profound effects on how the sector thinks about (and models) loss potential from Gulf Coast hurricanes, as a result of the perhaps unexpected pre-landfall intensification and distance inland that hurricane force winds were recorded.
As a result, it will likely be some weeks before a true level of exposure for insurance, reinsurance and ILS interests is understood, as is typical with most hurricane events.
But, however large that industry loss turns out to be, it's still unlikely to be sufficiently large to move the market in any significant manner. It could however serve to add pressure to prevent further significant price declines at renewals to come and may create some pressure to think again about how Gulf Coast hurricanes interact with land.
Also read:
– Hurricane Michael wind & surge insured loss up to $4.5bn: Corelogic.
– Hurricane Michael landfall site a key factor for ILS & cat bond exposure.
– More intense hurricane Michael potentially doubles economic impacts.
– Hurricane Michael a very different storm to Florence: RMS.
– Florida primary & national insurers most exposed to hurricane Michael.
– $13.4bn of property value exposed to hurricane Michael storm surge.
View all of our Artemis Live video interviews and subscribe to our podcast.
All of our Artemis Live insurance-linked securities (ILS), catastrophe bonds and reinsurance video content and video interviews can be accessed online.
Our Artemis Live podcast can be subscribed to using the typical podcast services providers, including Apple, Google, Spotify and more.