Catastrophe risk modelling specialist Corelogic has increased its estimate for the wind and storm surge related insurance industry loss from hurricane Michael, adding half a billion to each end of its estimate range, making it $3 billion to $5 billion.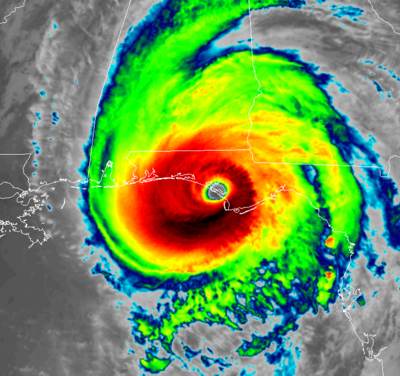 That still sits quite far below the industry loss estimate from Karen Clark & Co., which calls for hurricane Michael to result in an insurance and reinsurance market loss of close to $8 billion from wind and storm surge, excluding NFIP losses.
Corelogic's initial loss estimate, that was based on pre-landfall factors, called for a wind and storm surge insured loss of between $2 billion and $4.5 billion.
As landfall and post-landfall data became available it was always clear that early estimates would likely fall short, given the unusual way hurricane Michael maintained its hurricane strength winds as it headed inland.
Corelogic's estimate is quite different to KCC's, given the KCC estimate does not include any losses from the NFIP.
Corelogic's industry loss estimate is based on residential and commercial storm surge and wind loss estimates and the storm surge component includes the NFIP.
The firms latest analysis suggests that wind losses for residential and commercial properties in Florida will be between $2 billion and $3 billion, while the storm surge losses, including those covered by the National Flood Insurance Program (NFIP), will be an additional $0.5 billion to $1 billion.
Overall, Corelogic expects that between $2 billion and $4 billion of the insured property losses will come from Florida, while $500 million to $1 billion will come from the other states affected by hurricane Michael.
As ever, the difference between risk modelling firm estimates is stark, representing the different approaches to modelling and estimating insurance and reinsurance market losses from major catastrophe events.
Estimates should be available from more risk modellers this week we believe and it will be interesting to see how they compare as well.
But overall hurricane Michael remains an event that will not unduly threaten the profitability of insurance and reinsurance interests, with some losses expected in the reinsurance and ILS fund market, but not sufficient to really impact capital and keeping the hurricane largely an earnings event.
Also read:
– 2018 losses with Michael still an earnings event, pricing to be unfazed: S&P.
– Hurricane Michael insured loss to be close to $8bn: Karen Clark & Co.
– Reinsurance to take more of Michael's losses than Florence's: KBW.
– ILS funds fell less than re/insurance stocks as hurricane Michael hit Florida.
– Hurricane Michael losses unlikely to move the re/insurance market.
– Hurricane Michael wind & surge insured loss up to $4.5bn: Corelogic.
– Hurricane Michael landfall site a key factor for ILS & cat bond exposure.
– More intense hurricane Michael potentially doubles economic impacts.
– Hurricane Michael a very different storm to Florence: RMS.
– Florida primary & national insurers most exposed to hurricane Michael.
– $13.4bn of property value exposed to hurricane Michael storm surge.
View all of our Artemis Live video interviews and subscribe to our podcast.
All of our Artemis Live insurance-linked securities (ILS), catastrophe bonds and reinsurance video content and video interviews can be accessed online.
Our Artemis Live podcast can be subscribed to using the typical podcast services providers, including Apple, Google, Spotify and more.