Hurricane Michael will result in an insurance and reinsurance market loss of close to $8 billion from wind and storm surge, excluding NFIP losses, according to catastrophe risk modelling specialists Karen Clark & Co.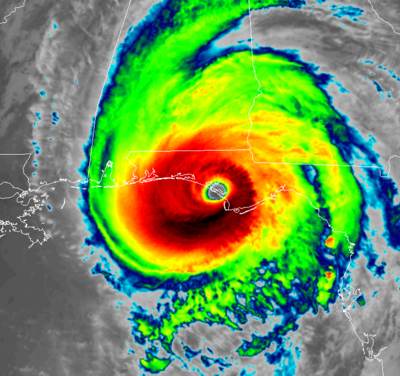 The estimate is the first post-landfall attempt to peg a cost to the insurance industry for the hurricane and as a result it is significantly higher than the early pre-landfall estimate of $2 billion to $4.5 billion from Corelogic.
Karen Clark & Co's (KCC) industry loss estimate is based on privately insured wind and storm surge damage to residential, commercial, and industrial properties as well as automobiles, but no NFIP impacts are included.
At close to $8 billion this estimate is high enough to suggest that reinsurance interests will definitely take a reasonable share of the losses from hurricane Michael, including a share for collateralized reinsurers, retrocessionaires and ILS funds.
KCC used its high-resolution US Hurricane Reference Model to derive the loss estimate of close to $8 billion.
The company said that nearly half of this total likely occurred in just two Florida counties which were exposed to the highest winds – Bay and Gulf.
For the storm surge component, KCC estimates that the insurance and reinsurance market loss from storm surge specifically will not be extensive, with total damages from storm surge estimated as $3.7 billion, but only about ten percent of this expected to be insured.
As a result it appears that hurricane Michael continues to look like a wind event for the insurance and reinsurance sector and one that will drive some losses to ILS fund interests, although not particularly significant compared to the losses suffered from the 2017 hurricanes.
But still, this is not going to be a sufficiently large loss to move the market in any way, other than some regional effects, we'd assume.
Additional colour from KCC is included below:
Michael Highlights:

Made landfall near Mexico Beach, Florida, with strong Category 4 wind speeds at 1:45 PM EDT on October 10.
Reached peak intensity of 155 mph just before landfall, making Michael the strongest hurricane to impact the Florida Panhandle in recorded history.
Rapidly intensified from Category 2 to Category 4 hurricane in 24 hours.
Had the fourth highest wind speeds of a hurricane to make landfall in the US in recorded history. Michael's peak winds at landfall were just behind the three Category 5 storms that have made landfall since 1900 – Labor Day (1935), Camille (1969), and Andrew (1992).
Very small, tightly wound, and powerful eyewall caused tornado-like damage in and around Panama City, which was ground zero for Hurricane Michael.
Caused damage across five states, with the majority of the loss in Florida and Georgia.

Meteorological Development

On October 6, a tropical depression was located off the coast of Belize traveling north with wind speeds of 30 mph. The depression progressed north and strengthened to Tropical Storm Michael the next afternoon to the east of the Yucatan Peninsula. By the time Michael reached the western coast of Cuba on October 8, the storm had attained hurricane status.

Hurricane Michael continued to travel north across the Gulf of Mexico, where warm sea surface temperatures and a favorable wind shear environment enabled continued strengthening. By the morning of October 9, Hurricane Michael was a Category 2 storm, and by that night, the storm was a major hurricane.

In the hours before landfall, Michael continued intensifying rapidly and reached peak wind speeds of 155 mph, just 2 mph lower than Category 5 status, as the storm approached the Florida coast. On October 10 at 1:45 PM EDT, Hurricane Michael made landfall at Mexico Beach, Florida, as a strong Category 4 hurricane.

Impacts in and around Panama City

The highest wind speeds of 155 mph, the equivalent of an EF-3 tornado, impacted a narrow area through Bay County, Florida, and resulted in extensive wind-related damage across all lines of business and construction types.
Residential structures impacted by the Category 4 wind speeds sustained heavy damage. Once the roofs are blown off, single family homes will fail due to the loss of structural integrity.

Many types of commercial structures including apartment complexes, office buildings, and schools sustained heavy damage. Hotels, especially those along the coast, sustained damage to windows, roofs, and other elements due to high winds.

Light-metal and frame structures in this area were unable to withstand the high wind speeds, and this damage is consistent with expectations of a storm of this strength. Tyndall Air Force Base, also in the eye of the storm, sustained major damage.

KCC estimates that nearly one half of the $8 billion insured loss from Hurricane Michael occurred in two Florida counties – Bay and Gulf.

Inland Impacts

As Michael moved inland, it continued to cut a relatively narrow path of destruction. Tallahassee, the most populated city in the Panhandle, remained outside the eastern eyewall and barely experienced hurricane force winds. Direct wind damage was limited to low level roof and siding damage. For the most part, structural damages were the result of falling trees.

In general, wind speeds fell off rapidly outside the eyewall, sparing many areas from the intense wind speeds. Michael was downgraded to a Category 1 hurricane when the center was over southwestern Georgia and maintained tropical storm status through South and North Carolina. Power outages and low levels of wind damage were experienced across five states.

Storm Surge Impacts

While Michael was predominantly a wind event, storm surge impacts were devastating in specific areas such as Mexico Beach. Storm surge depths ranged from 9 to 14 feet along the most impacted area of the coast between Mexico Beach and Apalachee Bay.

KCC estimates total damages from storm surge of $3.7 billion, of which about ten percent will be insured.
Also read:
– Reinsurance to take more of Michael's losses than Florence's: KBW.
– ILS funds fell less than re/insurance stocks as hurricane Michael hit Florida.
– Hurricane Michael losses unlikely to move the re/insurance market.
– Hurricane Michael wind & surge insured loss up to $4.5bn: Corelogic.
– Hurricane Michael landfall site a key factor for ILS & cat bond exposure.
– More intense hurricane Michael potentially doubles economic impacts.
– Hurricane Michael a very different storm to Florence: RMS.
– Florida primary & national insurers most exposed to hurricane Michael.
– $13.4bn of property value exposed to hurricane Michael storm surge.
View all of our Artemis Live video interviews and subscribe to our podcast.
All of our Artemis Live insurance-linked securities (ILS), catastrophe bonds and reinsurance video content and video interviews can be accessed online.
Our Artemis Live podcast can be subscribed to using the typical podcast services providers, including Apple, Google, Spotify and more.