HSBC Global Asset Management has launched a new U.S. Treasury fund that it has domiciled in Bermuda, with the aim of capitalising on rising opportunities due to the continued expansion of insurance-linked securities (ILS), as well as other forms of insurance and reinsurance on the island.

The new U.S. Treasury Fund is the first from HSBC to be located in an offshore domicile, but with good reason as the bank's asset management arm looks to deliver a local service to the burgeoning ILS and reinsurance market in Bermuda.
The company said, "The US Treasury Fund is targeted at institutional investors from the Insurance, Reinsurance, Captive and ILS market locally.
"Leveraging the global reach of HSBC, the US Treasury Fund will offer additional scale to investors by investing directly into a master HSBC Global Treasury Liquidity Fund."
Funds focused on allocating to secure and stable Treasury assets are often used for the investment of collateral assets from catastrophe bonds, collateralized reinsurance and other ILS transactions.
Additionally, the use of investments in Treasuries is also prevalent in captives, insurance and other reinsurance structures.
Therefore locating the fund in Bermuda positions it close to a growing potential client-base for HSBC Global Asset Management.
The fund strategy will aim to deliver both security of capital and daily liquidity to investors, alongside an investment return that compares well to an allocation to typical short-dated US Dollar denominated Treasuries. The HSBC strategy will allocate its capital to a range of short-term debt, including Treasury bills, bonds, and Repo opportunities, the firm explained.
Faith Outerbridge, the Head of HSBC Global Asset Management (Bermuda), commented on the news, "Our investment process combines a structured, methodical and globally consistent approach including a distinctive credit, liquidity and interest rate risk approval and limit setting process, adhering to global governance standards, whilst taking into account local market dynamics.
"We have seen appetite for an offshore USD Treasury fund grow amongst our Bermuda based clients and are proud Bermuda has become the impetus to launch this fund solution to HSBC clients globally."
———————————————————————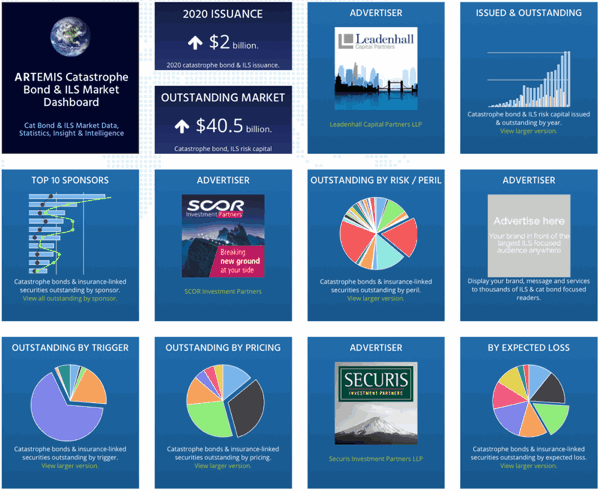 Analyse catastrophe bond market issuance using the Artemis Dashboard and Charts.
We've tracked more than 650 cat bonds and related ILS transactions since 1996, all of which are included in our extensive Deal Directory.
Use the Artemis Dashboard and our Cat Bond Market Charts to analyse this market!