Each year we provide a page containing information and resources to help you track the progress of the Atlantic tropical storm and hurricane season. We've just launched our page for this year and you can find it here, or by clicking on the 2011 Atlantic Hurricane Season graphic which is on the right hand side of every page of the news blog.

We encourage you to bookmark the page so you can return to it easily at any time and please share it with your friends.
We will be referring to the page regularly within any articles regarding storms as they form and threaten landfall. Of course the Artemis news blog will keep you up to date with any losses caused by tropical storms or hurricanes throughout the season with a particular focus on any potential impact to catastrophe bonds.
The page contains a tracking map which will display any depressions as they form showing the probability of them becoming named storms or hurricanes. It will also show the projected path of any storms. As storms form we will link to further pages of information on each from the grid displaying the storm names which will be used during the 2011 hurricane season.
You can also find information on forecasts from respected tropical weather authorities, satellite images of the Atlantic, Caribbean basin and Gulf of Mexico and information on the tropical weather outlook for the Atlantic.
We hope you find the resource useful.
———————————————————————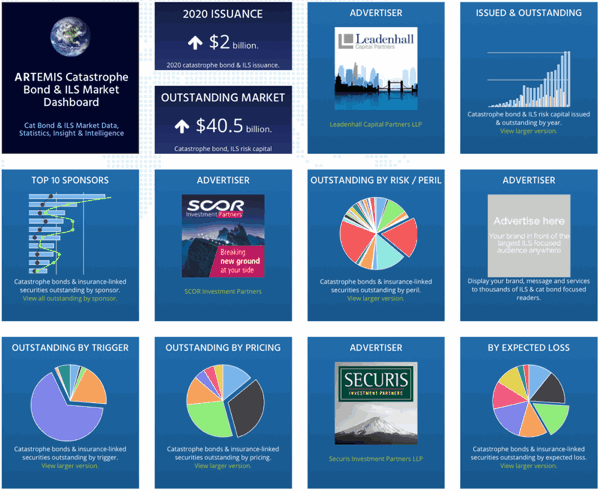 Analyse catastrophe bond market issuance using the Artemis Dashboard and Charts.
We've tracked more than 650 cat bonds and related ILS transactions since 1996, all of which are included in our extensive Deal Directory.
Use the Artemis Dashboard and our Cat Bond Market Charts to analyse this market!