The Association of British Insurers (ABI) has said that it expects the insurance and reinsurance industry to pay for around £520 million ($775m or €715m) in claims from European windstorm Desmond and the resulting flooding in the northern UK.


Storm Desmond hit the north of the UK over the 4th and 5th of December resulting in major flooding across parts of Cumbria, Lancashire and in the Scottish borders. The ABI's latest estimate forecasts that Desmond will cause an insurance industry loss of £520 million to the ABI's member base.
The ABI explained that storm Desmond resulted in 23,700 claims for property damaged by either flood or storm, with just over 4,000 related to businesses. A further 2,800 motor insurance claims have also been received by ABI members.
The ABI's £520 million estimate for the final toll that will ultimately be paid for by its insurance and reinsurance company members is higher than the estimate put out by PwC (of £325m) just after the storm, reflecting the increasing number of claims that came in.
At this level there is likely to be some impact to reinsurance capacity providers that are exposed to the storm and flooding, which could mean that some ILS fund managers have a little exposure through any UK collateralized property catastrophe reinsurance contracts, although at this level any ILS fund losses would be expected to be minimal.
PERILS AG is investigating the UK flooding caused by storm Desmond, but not the wind damage which it did not feel qualified for reporting on. That suggests that of the £520 million of insurance losses expected by the ABI the majority will be flood related rather than wind.
Also read:
– UK storm Desmond expected to cost insurers up to £325m: PwC.
– PERILS puts Cumbria, UK flooding under investigation.
———————————————————————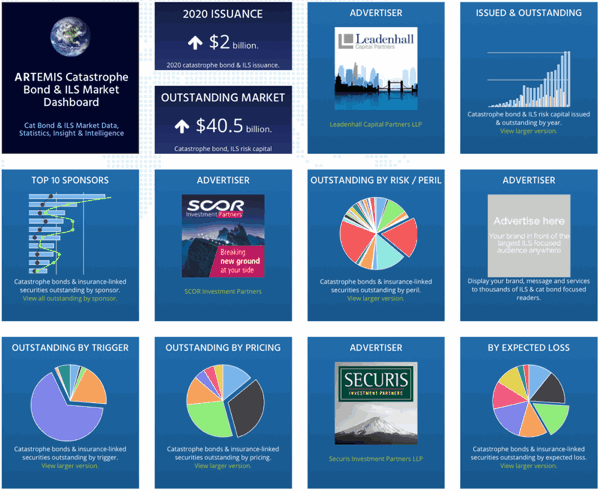 Analyse catastrophe bond market issuance using the Artemis Dashboard and Charts.
We've tracked more than 650 cat bonds and related ILS transactions since 1996, all of which are included in our extensive Deal Directory.
Use the Artemis Dashboard and our Cat Bond Market Charts to analyse this market!