Sub-tropical storm Alberto, the first named cyclone that has formed just in advance of the official start of the 2018 Atlantic hurricane season, is now approaching the Gulf Coast with sustained winds that have intensified to 65mph and is expected to make landfall in the Florida Panhandle.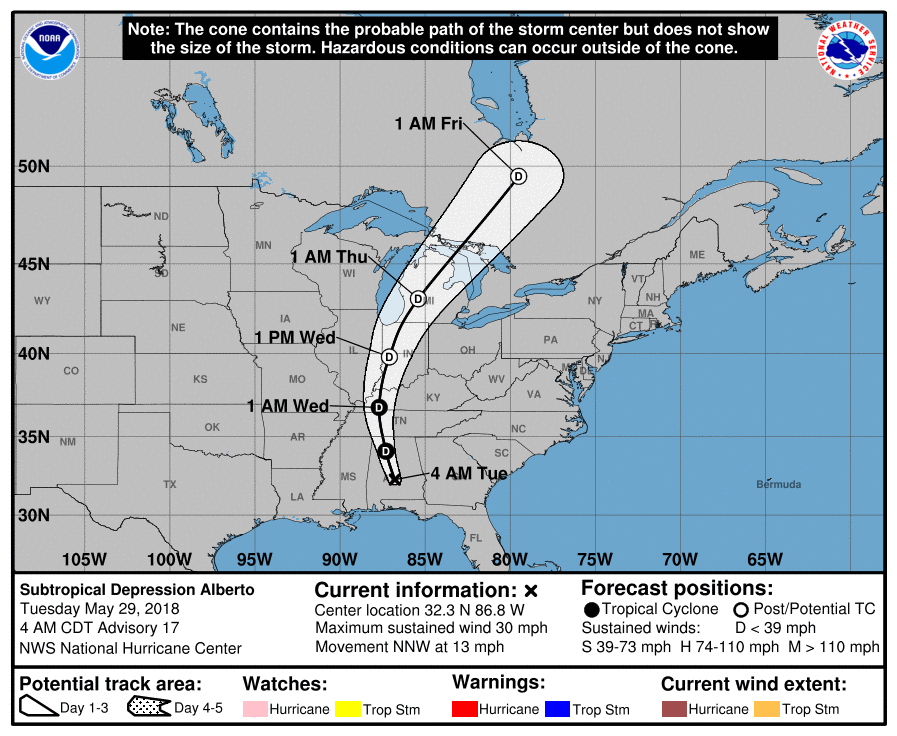 Alberto has retained its subtropical characteristics, but that doesn't make the storm any less of a threat to property and those living in its path, with certain areas expected to receive torrential rainfall and a storm surge forecast for around the landfall area.
Alberto is approaching the Florida Panhandle coastline at 9mph and is expected to make landfall around 8am local time today.
Maximum sustained winds are at 65mph currently, with some higher gusts but little change in strength expected before landfall. Alberto's minimum central pressure has fallen to 990mb and winds of 40mph extend outwards up to 115 miles from the center of the storm.
Impacts to the insurance and reinsurance industry are unlikely to be particularly significant, but thanks to the proliferation of aggregate reinsurance arrangements any tropical storm can be a contributor to increase the chances of losses later in the season.
The latest forecast model runs for wind speeds of Alberto can be seen below.
NOAA reports the following potential dangers to land:
HAZARDS AFFECTING LAND
———————-
RAINFALL: Alberto is expected to produce the following rain accumulations through Tuesday:

Central Cuba…Additional 5 to 10 inches, isolated storm-totals of 20 to 25 inches.

The Florida panhandle into much of Alabama and western Georgia…4 to 8 inches, isolated 12 inches.

The Florida Keys and south Florida…Additional 3 to 6 inches, isolated storm totals of 10 inches.

Rest of the Florida peninsula…1 to 4 inches.

Rest of the Southeast and Tennessee Valley into the lower mid Atlantic from Tennessee east through the Carolinas…2 to 6 inches.

Rains in Cuba could produce life-threatening flash floods and mudslides. Flooding and flash flooding are possible in the southeast United States, including Florida.

WIND: Tropical storm conditions will spread across the warning area throughout the day.

STORM SURGE: The combination of storm surge and the tide will cause normally dry areas near the coast to be flooded by rising waters moving inland from the shoreline. The water could reach the following heights above ground somewhere in the indicated areas if the peak surge occurs at the time of high tide…

Crystal River to Navarre Florida…2 to 4 ft

The deepest water will occur along the immediate coast. Surge- related flooding depends on the relative timing of the surge and the tidal cycle, and can vary greatly over short distances. For information specific to your area, please see products issued by your local National Weather Service forecast office.

TORNADOES: A couple of brief tornadoes are possible today across much of Florida, central and southern Georgia, southern South Carolina, and southeastern Alabama.

SURF: Swells generated by Alberto will continue to affect the eastern and northern Gulf Coast through Tuesday. These swells are likely to cause life-threatening surf and rip current conditions.
Keep track of our 2018 Atlantic Hurricane Season page where we will update the forecast numbers over the coming months and then track every storm of the season.
Register now for our upcoming Singapore conference. Tickets on sale here.


———————————————————————

View all of our Artemis Live video interviews and subscribe to our podcast.
All of our Artemis Live insurance-linked securities (ILS), catastrophe bonds and reinsurance video content and video interviews can be accessed online.
Our Artemis Live podcast can be subscribed to using the typical podcast services providers, including Apple, Google, Spotify and more.
—————————————