A new catastrophe bond transaction has been launched to the market and the SD Re Ltd. (Series 2018-1) transaction is set to become the second California wildfire cat bond covering third-party liability costs, benefiting utility firm Sempra Energy and subsidiaries.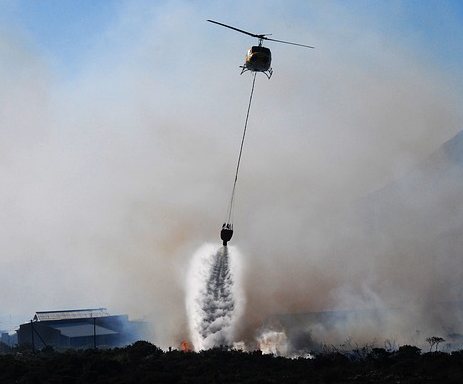 The transaction is very similar to the recent Cal Phoenix Re Ltd. (Series 2018-1) catastrophe bond, which set a first for the market being the first to provide pure California wildfire protection and on a third-party liability basis.
The SD Re Ltd. 2018-1 cat bond looks to emulate that success, with GC Securities acting as structurer and bookrunner as it did with the PG&E deal, bringing a new corporate energy client to the ILS market in search of efficient risk transfer coverage.
So this new SD Re 2018-1 catastrophe bond is to become the second such transaction to cover pure wildfire risks and insure the beneficiary against liabilities associated with fires.
The beneficiary of the coverage is Sempra Energy, we're told, an electricity utility provider, and certain subsidiaries of the company.
With this SD Re Ltd. cat bond transaction, Sempra Energy is seeking a $125 million source of California wildfire insurance from the capital markets, with Hannover Re acting as the ceding reinsurance firm for this transaction.
Like the Cal Phoenix Re cat bond, the SD Re Ltd. deal will cover the beneficiary against losses it suffers due to wildfires that have been caused by its own infrastructure or facilities. As a result the coverage Sempra will benefit from should be considered wildfire property liability protection.
In the SD Re Ltd. transaction, the wildfire property liability risk is being ceded using Energy Insurance Services, Inc., a subsidiary of Energy Insurance Mutual (of which Sempra Energy is a member) as the reinsured party and reinsurance firm Hannover Re as the ceding reinsurer. Energy Insurance Services then provides the capital markets backed insurance protection to Sempra Energy.
As a result, this new SD Re Ltd. (Series 2018-1) catastrophe bond uses an indemnity trigger arrangement, with the sale of the $125 million or more notes issued by SD Re Ltd. set to collateralize the retrocessional reinsurance agreement between SD Re Ltd. and Hannover Re, which in turn provides the reinsurance protection to Energy Insurance Mutual, which then insures the Sempra Energy wildfire property liability risk.
So, Sempra Energy's corporate risk exposure to wildfires that its own infrastructure, facilities, operations or equipment could cause, travels through multiple layers of insurance, reinsurance and retrocessional risk transfer to the capital markets, allowing for an indemnity arrangement to be put in place for the firm, backed by the efficiency of ILS market capacity.
Energy Insurance Services, Inc., the insured and subsidiary of Energy Insurance Mutual, is a provider of third-party liability insurance coverage to energy utility and related companies and also featured in the Cal Phoenix Re deal.
Bermuda special purpose insurance vehicle SD Re Ltd. will aim to sell a $125 million tranche of Series 2018-1 notes to investors, with the proceeds providing the capital to back the risk transfer for Sempra Energy.
The SD Re Ltd. wildfire cat bond insurance will cover Sempra Energy for three-years against property damages caused by wildfires in the state of California, on a third-party wildfire liability basis, so the damage caused by wildfires for which Sempra is deemed to have been liable.
As with the previous Cal Phoenix Re cat bond for PG&E, this cat bond features litigation risks related to the third-party wildfire related property damages, which are categorised under loss adjustment expenses, we're told.
SD Re Ltd., as issuing vehicle, will issue the notes to be sold to ILS funds and ILS investors, with the proceeds providing the collateral to back a three-year annual aggregate and indemnity reinsurance arrangement with Hannover Re, the ceding reinsurer, and the coverage cascading back via Energy Insurance Services as the reinsured, to Sempra Energy as the insured party.
The insurance coverage, for California wildfires that are caused by or due to infrastructure, facilities and operations owned by or of the insured Sempra Energy, will help the firm finance any claims that come through during wildfire season, should a blaze be sparked by any assets the company owns.
We're told that the currently $125 million tranche of Series 2018-1 notes to be issued by SD Re will have an initial attachment point of $1.325 billion and cover losses up to $1.465 billion, with a $50m franchise deductible per event. While that's a $140 million layer, it seems Sempra will retain the difference between the $125 million of notes and the layer size.
According to our sources, that equates to a modelled initial attachment probability of 0.21%, an initial expected loss of 0.21% and we the notes to be issued by SD Re are being offered to investors with coupon pricing guidance of 3.5% to 4.5%.
As with the Cal Phoenix cat bond this is a significant multiple, likely to ensure investors feel well-compensated for taking on potential unknowns and third-party liability with this catastrophe bond, including the litigation risk that will be included under loss adjustment expenses.
It's encouraging to see a second iteration of this wildfire property liability cat bond use-case, but as with the first this transaction won't suit every investor or fund. However it is a positive expansion of the catastrophe bond market's remit and we could see other uses of the ILS structure to transfer these third-party liability type risks to the capital markets.
We will update you as the SD Re Ltd. (Series 2018-1) comes to market and you can read about this and every other catastrophe bond in the Artemis Deal Directory.
Register today for ILS NYC 2023, our next insurance-linked securities (ILS) market conference. Held in New York City, February 10th, 2023.
Get a ticket soon to ensure you can attend. Secure your place at the event here!