Lloyd's, the London based specialist insurance underwriting market, has announced estimated figures for the insurance markets losses from some of the recent major disasters such as the earthquakes in Japan and New Zealand and the flooding in Queensland, Australia. The total estimated insured loss that members of the Lloyd's market will be liable for currently stands at $3.8 billion (£2.4 billion).

The current estimates for each event, before tax, are:
Japan earthquake and tsunami – $1.95 billion
New Zealand earthquake – $1.2 billion
Australia flooding – $650m
Lloyd's note that the estimates may vary as further claims information comes in. They say the figures are consistent with industry losses of $30 billion for Japan, $9 billion for New Zealand and $5 billion for Australia. As some of those figures are at the lower end of estimates for insured losses from other industry sources it is possible Lloyd's share of the losses will grow.
There will be no impact to the Lloyd's central fund, a backstop set up to cope with losses which stretch the member companies reinsurance.
Lloyd's Chief Executive, Richard Ward, said 'The Lloyd's market is as well capitalised as it has ever been and, while claims from all three events could still evolve over time, the market's total exposure is well within the worst case scenarios we model and prepare for. We expect to see a firming of rates as a result of this first quarter and the recent tornadoes in the United States.'
Lloyd's is heading for a large loss for the first half of the year, particularly when you take into account the estimated size of insured losses for the recent tornadoes in the U.S. and the fact that Lloyd's are bound to have a share. There is also the flooding in the U.S. to keep an eye on too, as some losses could make their way to the Lloyd's market, and hurricane season just around the corner.
———————————————————————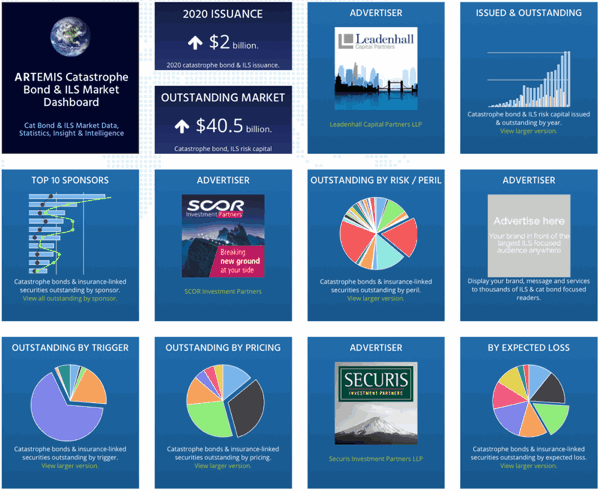 Analyse catastrophe bond market issuance using the Artemis Dashboard and Charts.
We've tracked more than 650 cat bonds and related ILS transactions since 1996, all of which are included in our extensive Deal Directory.
Use the Artemis Dashboard and our Cat Bond Market Charts to analyse this market!