QBE, the Australian headquartered insurance group, has avoided any reinsurance rate increases following the recent catastrophe events by going to market early with a 2019 renewal that has come in cheaper while adding $1.1 billion more occurrence limit.

QBE said that its renewed reinsurance program for 2019 will provide it with greater protection against major peak peril loss events, while also having reduced some of its retention levels and maintained some frequency protection through a catastrophe aggregate tower.
In addition, the company has expanded the protection its self-reinsurance vehicle Equator Re will provide, with the vehicle set to take more of the losses off QBE's book, so adding efficiency, but then ceding more to third-parties through a now 50% quota share arrangement, up from just 40% in 2018.
The Equator Re vehicle is interesting though, as it does seem that QBE could transition this to being third-party capitalised if it wanted to, to take advantage of any capital market investor appetite for participation in its risks.
QBE hit the renewal market early this year, getting out with firm order terms in advance of the full impacts of the California wildfires being known and before the capacity crunch began in retrocession markets.
That helped the insurer to avoid the now evident increasing upward pressure on prices for the renewals, which has been exacerbated by the trapping of additional ILS collateral by the wildfires, ongoing hurricane Irma loss creep, as well as rising expectations for the eventual industry loss from typhoon Jebi.
With the aggregation of catastrophe losses over the last 18 months or so now having resulted in a crunch on reinsurance and retrocession capacity among some market, particularly higher-risk collateralized, the effect on the renewal is that rates are largely stabilising and in some cases seen to be rising.
QBE has likely saved more money by getting its renewal to market early this year, as had also been seen with French reinsurance firm SCOR, who as we explained on November 26th had secured its retrocession program renewal early and benefitted from better market terms as a result.
On the other hand, those Lloyd's syndicates which had been delayed in approaching the renewal market may find conditions less conducive and pricing less attractive as a result, as we explained here.
QBE said that with its 2019 reinsurance renewal, which is fully placed and 50% of which is placed for two years, the "Early placement led to favourable terms" and getting out to market before the rush meant that it "avoided pricing uptick post recent Cat activity."
With now $1.1 billion more limit in place for major catastrophe losses, QBE is certainly better protected. At the same time reduced first and second event retentions, as well as the increased quota share cessions all mean the company is likely to experience much less hit to the bottom-line in a typical catastrophe loss year.
The company explained, "We have moved to a more conventional reinsurance structure with significantly increased catastrophe protection that will deliver better profit outcomes in extreme (severe or benign) catastrophe years as would have been the case in 2017 and 2015 respectively.
"To demonstrate the extent to which our exposure to more extreme catastrophic events has been reduced, our 1:20 and 1:200 year probable maximum loss (PML) for Australian cyclone events will fall by around 20% and 35% respectively, while our 1:20 and 1:200 year PML for North American hurricane will fall by around 20% and 25% respectively."
Previously, QBE had exhausted its aggregate reinsurance tower despite having placed an increasing focus on frequency protection in renewals. It's no surprise to see the structure change to provide more excess of loss type occurrence coverage for 2019.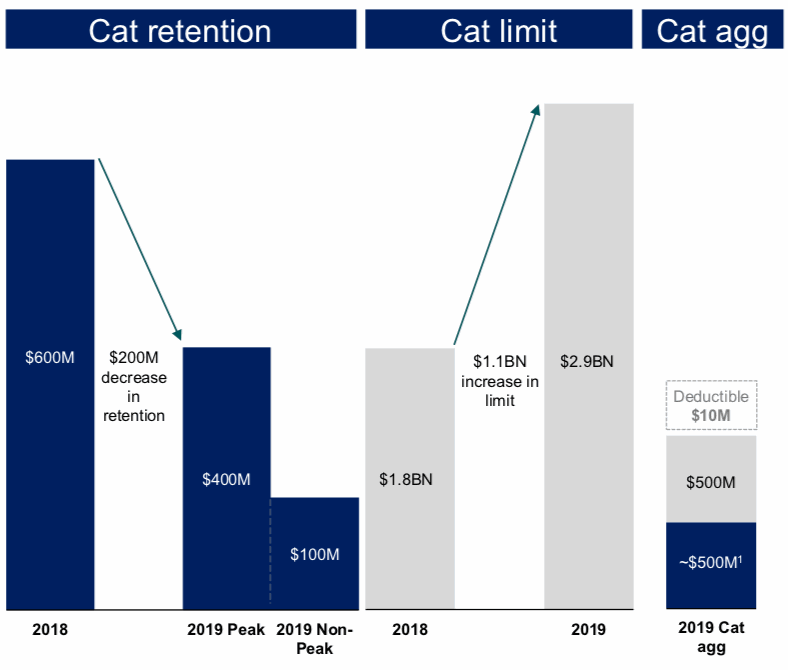 More details on the renewed program can be found over at our sister site Reinsurance News.
QBE expects a saving of roughly $125 million with the new reinsurance program, but has more than offset that by increasing its catastrophe budget from $1.2 billion to $1.4 billion, which is said is due to "greater variability around reinsurance recoveries" under the new program.
However, the "headwind" of an additional profit hit from this higher cat budget will likely be offset by a more responsive reinsurance program, QBE hopes.
As ever, we assume some collateralized or fronted participation by ILS funds in this QBE reinsurance renewal, as has been seen in prior year.
QBE had previously said that it expected to see an "orderly correction" in reinsurance markets following a number of years of softening pricing and the major loss events of 2017, but it seems the insurer may have avoided the worst of this by getting out in front of others and securing the renewal prior to the worsening of recent loss experience.
Read more of our coverage related to the upcoming reinsurance renewals.
View all of our Artemis Live video interviews and subscribe to our podcast.
All of our Artemis Live insurance-linked securities (ILS), catastrophe bonds and reinsurance video content and video interviews can be accessed online.
Our Artemis Live podcast can be subscribed to using the typical podcast services providers, including Apple, Google, Spotify and more.