The Prudential plc group of companies, which includes Prudential and M&G branded financial firms, has shown its appetite for investments in catastrophe risk and reinsurance by participating in the recently closed fundraising placement of new shares by the Montpelier Re backed Blue Capital Global Reinsurance Fund Limited. Prudential plc companies took an additional 10 million shares in the recently closed share offering.

The Prudential plc group of companies took almost a fifth of the latest share placement by the Blue Capital Global Reinsurance Fund, snapping up 10 million of the 51,250,000 new Ordinary shares, which at the placement price of $1.02 per Ordinary share would have cost $10.2m.
Prudential clearly enjoys the attractive returns and low-correlation with other asset classes that an investment in catastrophe reinsurance and retrocessional linked contracts through Blue Capital offers. Prudential had invested in the Blue Capital Global Reinsurance Fund in its December 2012 IPO, when it purchased 15.68 million shares, which was at the time equivalent to just over 15% of the fund.
Now, with 151,350,000 Ordinary Blue Capital Global Reinsurance Fund shares in circulation after the recent placement and Prudential having added 10 million to now hold 25.68m shares, Prudential holds approximately 16.96% of the funds Ordinary shares and the associated voting rights. The 25.68m shares are worth approximately $26.45m at Friday's closing price of $1.03 per Ordinary share.
The Prudential plc group of companies holdings in the Blue Capital Global Reinsurance Fund are attributed to a number of branded entities, including; Prudential plc (the parent company), M&G Group Limited, M&G Limited, M&G Investment Management Limited and The Prudential Assurance Company Limited and could be held within any of these firms investment fund offerings.

Other, perhaps considered more mainstream, asset managers have allocations to reinsurance and catastrophe risk through the Blue Capital fund as well, with ones we have written about previously including F&C Asset Management and Baillie Gifford. With the growing interest in allocating to catastrophe risk and reinsurance, as one of the only performing, low-correlation asset classes of the moment, we expect more inflows to the ILS asset class from this type of investor over the remainder of 2013.
Read about Blue Capital Global Reinsurance Funds successful recent share placing here and details of the shares listing on the LSE and BSX here.
———————————————————————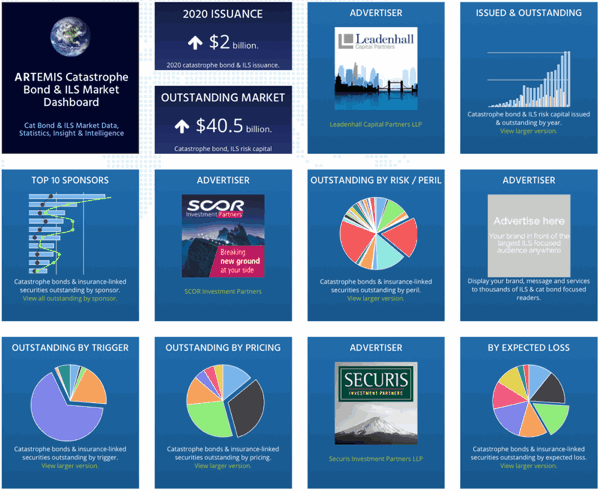 Analyse catastrophe bond market issuance using the Artemis Dashboard and Charts.
We've tracked more than 650 cat bonds and related ILS transactions since 1996, all of which are included in our extensive Deal Directory.
Use the Artemis Dashboard and our Cat Bond Market Charts to analyse this market!