The average return of insurance-linked securities (ILS) funds tracked by ILS Advisors Index was negative for the month of September 2018, coming in at -0.08% after a series of natural catastrophe events impacted ILS fund performance during the month.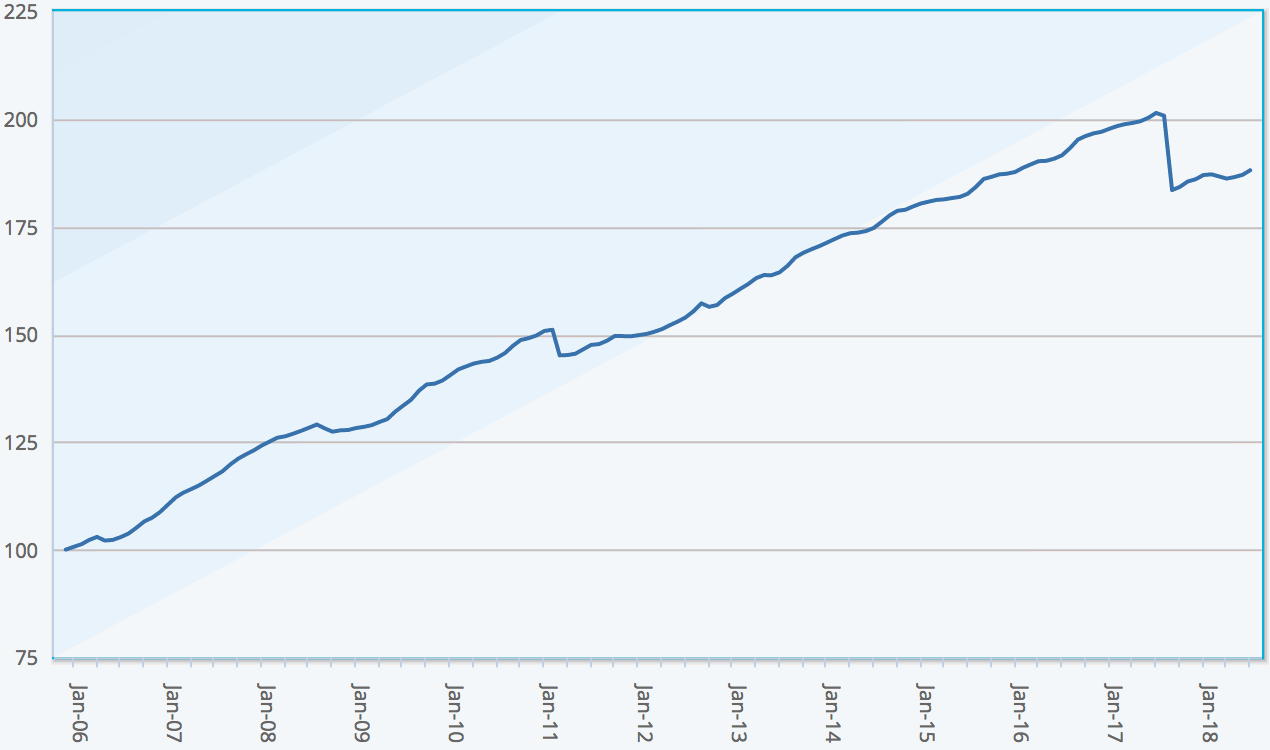 We wrote yesterday that a number of ILS funds had been reporting negative September returns, so the latest update to the Eurekahedge ILS Advisers Index confirms this and also shows the wide range in performance seen in the period.
The September return for the Eurekahedge ILS Advisers Index was negative at -0.08%, which is below the historical average of 0.14% and the year-to-date performance now sits at 1.54%, the second lowest at this point of the year on record.
Out of the 33 ILS and collateralised reinsurance funds tracked by ILS Advisors only 26 managed a positive return, while the difference between the best and worst performing was stark at more than 7 percentage points.
Stefan Kräuchi, Founder of ILS Advisers discussed the performance difference with Artemis, " The seven negative funds are all private ILS funds. Pure cat bond funds as a group were up by 0.34% while the subgroup of funds whose strategies include private ILS decreased by 0.38%. Private ILS funds on average continued to underperform pure cat bond funds YTD. The biggest gainer is a private ILS fund that increased by 2.28%. The biggest loser in the Index is also a private ILS fund that lost 5.06% for the month."
The losses in September 2018 appear to have been largely taken by private ILS and collateralised reinsurance, leading to the sub-group to decline for the month.
The differences in strategies and exposure levels between those ILS funds focused on private collateralised reinsurance contracts is stark, as evidenced by one fund being down more than 5% for a month when the loss events have not individually caused more than $10 billion of industry losses.
The gap between the best and worst performing was 7.34% and the private ILS funds as a group now underperform pure cat bond funds by 2.46% on an annualised and year to date basis.
This shows that ILS funds can be very negatively affected by an aggregation of loss events during a single month, even if no single event is particularly significant for the industry as a whole, another sign of the expanding range of ILS strategies available to investors.
On the cat bond funds Kräuchi explained, "Typhoon Jebi, Trami and hurricane Florence are the main driver of the losses of ILS market. Cat bonds typically sit higher on the loss waterfall so they are not impacted by events in September. However, cat bond prices were once down as Florence approached but recovered soon as the losses were still deemed to be less than the hurdle to trigger any payout. As a result, cat bond funds were positive."
On the private ILS and collateralised reinsurance side he continued, "For the private ILS funds, some aggregate programs have been affected due to an accumulation of various previous events as well as the earthquake and typhoons in Japan during the month. The aggregate deductibles have been eroded and reserves have been built up. Meanwhile, some side car and quota share holdings in some private ILS funds which absorb every dollar of profit and loss from the cedant were also marked down with potential loss estimates. As a result, the private ILS contracts absorbed a lot of losses for the month, which were reflected in the performance."
He also stressed that the losses to private ILS, collateralised reinsurance, quota shares and sidecars remain largely preliminary, hence there could be further deterioration in months to come.
With hurricane Michael's impacts to add in October, which is likely to further impact collateralised reinsurance aggregate structures, sidecars and quota shares, it's possible some funds will see another negative month before the end of the year and then dented returns as the final loss picture from these events becomes clearer.
Much of the estimates for events like typhoon Trami come from incurred but not reported losses, suggesting that there is room for the final performance for ILS funds to change. Of course that could also improve, as some ILS funds may have reserved conservatively for these catastrophe events.
Hence October may be another difficult month, in terms of returns for some private ILS fund strategies, while the rest of the year will be challenging for ILS managers as they try to gain greater clarity of the final loss picks for specific contracts.
You can track the Eurekahedge ILS Advisers Index on Artemis here, including the new USD hedged version of the index. It comprises an equally weighted index of 33 constituent insurance-linked investment funds which tracks their performance and is the first benchmark that allows a comparison between different insurance-linked securities fund managers in the ILS, reinsurance-linked and catastrophe bond investment space.
Register today for ILS Asia 2023, our next insurance-linked securities (ILS) market conference. Held in Singapore, July 13th, 2023.
Get a ticket soon to ensure you can attend. Secure your place at the event here!