Pacific Gas & Electric Co's (PG&E) $200m Cal Phoenix Re Ltd. (Series 2018-1) catastrophe bond has had its secondary market price marked down heavily by brokers who suspect that the cat bond will face a significant, if not total, loss due to the ongoing wildfire outbreak.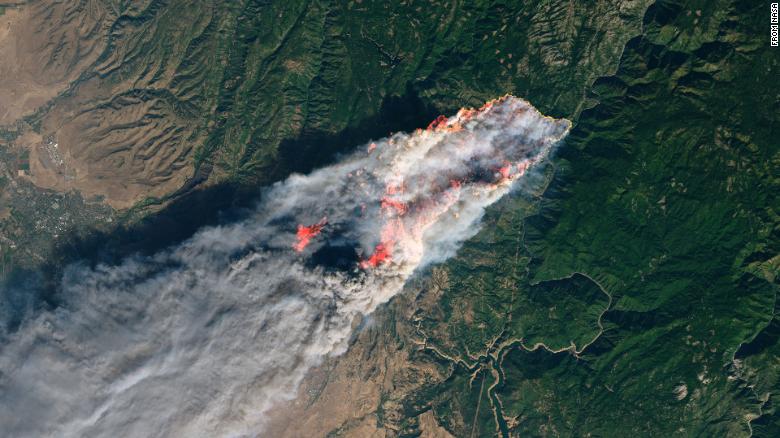 The liability for the Camp wildfire outbreak in northern California's Butte County has yet to be assigned and it could take months or even more than a year before it is decided by authorities.
But the fact that electrical utility PG&E already faces a lawsuit and has said that if found liable it expects to claim on its full $1.4 billion of liability insurance coverage for wildfire events, which would include the Cal Phoenix Re catastrophe bond, is enough for the cat bond to get heavily marked down and become the focus of distressed secondary market trading.
Artemis understands from sources that the $200 million Cal Phoenix Re cat bond has been marked down for bids at levels as low as 5 cents on the dollar today, suggesting the brokers are convinced it will face a loss of principal.
It also suggests while there is uncertainty among investors and ILS funds, associated with the assignment and apportioning of liability for the Camp wildfire, it is now generally expected to result in PG&E claiming on its $1.4 billion of insurance, so a hit for insurance and reinsurance interests, as well as ILS investors in the cat bond and this seems to be the market consensus today.
Investors clearly believe the Cal Phoenix Re cat bond will face a loss and we're told that some of the notes from this issuance did trade and change hands yesterday at the marked down price of 5 cents on the dollar.
So that's one investor willing to take a 95% haircut on their investment just to get it out of their portfolio and realise some cash for it. While another is willing to buy it at a distressed price, to likely hold onto in the hope that liability is not assigned to PG&E and the cat bond recovers in value as a result.
It's by no means guaranteed that investors in PG&E's Cal Phoenix Re catastrophe bond will face a loss, but the market is demonstrating its sentiment in this pricing and marking down of the notes value, suggesting that it is thought likely that a loss will be the eventual outcome.
The PG&E catastrophe bond is not the only one threatened by the wildfires, as we explained in an article yesterday.
One tranche of a cat bond sponsored by USAA is also considered one of the more at-risk aggregate structures and in addition private ILS or collateralised reinsurance losses are also expected.
The $100 million Class 11 tranche of USAA's Residential Re 2018-1 cat bond that is considered at risk has also been marked down in today's pricing sheets by brokers, with some suggesting a significant loss for this bond, being marked down for bids as low as 20 or even 10 cents on the dollar, our sources said.
The cat bond market's exposure to California wildfires is still not that significant, in the scheme of a $30 billion plus sized marketplace. But these wildfires show that the impacts for the ILS market in general are broad, with impacts expected across private ILS, collateralised reinsurance and retrocession likely including some sidecars, as well as to certain cat bonds.
It's also worth noting that the utilities regulator said yesterday that it would likely not allow PG&E to go bankrupt, if it is found liable.
This likely has little bearing on the potential for the cat bond to be triggered and in fact may make it even more likely that the insurance tower gets claimed on, as it suggests it could be even more likely the utility is found liable for the Camp wildfire outbreak.
Also read:
California wildfires have now destroyed over 12,400 structures.
USAA cat bond & private ILS also at risk of wildfire losses: Twelve Capital.
PG&E sued over Camp wildfire, putting Cal Phoenix Re cat bond in the frame.
Wildfires could cost insurers $5bn to $10bn: Credit Suisse analysts.
Wildfires to drive up to $6bn industry insured loss – Moody's.
Wildfire losses to hit record in 2018, pricing needs to change: A.M. Best.
Stone Ridge & CATCo fund prices dented by California wildfire threat.
Cat bond price volatility & discounts expected from wildfires: Plenum.
California wildfire most destructive ever, multi-billion losses expected.
View all of our Artemis Live video interviews and subscribe to our podcast.
All of our Artemis Live insurance-linked securities (ILS), catastrophe bonds and reinsurance video content and video interviews can be accessed online.
Our Artemis Live podcast can be subscribed to using the typical podcast services providers, including Apple, Google, Spotify and more.