Global reinsurance firm Munich Re is set to sponsor its largest catastrophe bond ever, as the Queen Street XII Re dac 2016 transaction is now set to complete at $190m in size, securing the reinsurer its largest slice of cat bond investor backed retrocession.

This Queen Street XII Re cat bond is actually Munich Re's twelfth successful issuance under a Queen Street named SPV, but is the twenty-first cat bond transaction we have Munich Re as a sponsor of in our comprehensive Deal Directory.
This transaction launched with the reinsurance firm seeking $100m of retrocessional reinsurance to cover industry losses from the two covered perils on a per-occurrence basis over four seasonal risk periods for each peril, but the size guidance grew to a target range of $150m to $200m thanks to demand from investors.
We understand that the Queen Street XII cat bond is now set to complete at $190m, providing Munich Re with its largest source of cat bond investor backed retrocessional reinsurance ever.
At the same time as upsizing to $190m the pricing has now been fixed at the lower end of a reduced range, at 5.25%.
The transaction launched with spread guidance of 5.75% to 6.25%, which was subsequently reduced to 5.25% to 5.75%. Settling at the low-end of reduced guidance, the 5.25% coupon demonstrates investor demand, helping Munich Re to a saving on previous cat bond issues covering similar layers of risk.
In fact, the recently matured 2012 transaction Queen Street VII Re Ltd had the same expected loss as this new cat bond, at 2.71%, but that cat bond paid investors a coupon of 8.6%. At 5.25% the 2016 Queen Street XII cat bond represents a 39% coupon saving for Munich Re, which is aligned with declines seen across the global property catastrophe reinsurance market over the last four years.
At the 5.25% coupon the Queen Street XII Re cat bond notes will provide ILS investors a multiple of 1.94 times the expected loss.
Previously Munich Re's largest cat bond was a parametric index transaction from 2001, PRIME Capital Hurricane Ltd. at around $165m. It's encouraging to see such a large reinsurer increasing its use of the cat bond market. It shows both that ILS capacity is very attractive and efficient for these large re/insurers, but also that Munich Re is increasingly comfortable transferring an increasing amount of its catastrophe risks to the capital markets, as also evidenced by its use of reinsurance sidecars.
We understand that closing for this cat bond will be on the 2oth May. You can read all about the Queen Street XII Re dac cat bond and every other transaction in the Artemis Deal Directory.
———————————————————————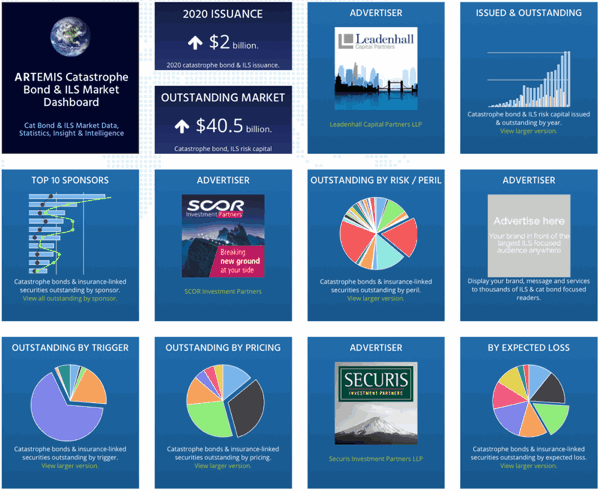 Analyse catastrophe bond market issuance using the Artemis Dashboard and Charts.
We've tracked more than 650 cat bonds and related ILS transactions since 1996, all of which are included in our extensive Deal Directory.
Use the Artemis Dashboard and our Cat Bond Market Charts to analyse this market!