The insurance-linked securities (ILS) market is ready and expecting to enter further phases of growth and expansion, according to the discussions between speakers and also attendees at Artemis' third conference in New York, ILS NYC 2019.

The event held on February 1st 2019 saw 350 registered attendees assemble in the heart of Manhattan for the third annual Artemis NYC conference.
With the theme of the conference focused on "Unlocking the Next Phase of ILS Growth" attendees were treated to panel discussions featuring leading ILS and reinsurance industry practitioners, as well as guests selected for their potential to contribute to the growth of the insurance-linked securities (ILS) market.
Speakers discussed trends related to the ongoing and expanding integration of ILS within the traditional insurer and reinsurer business model, how technology is set to drive new phases of ILS market growth, the shortening of the value-chain and what this means for the market, and how public risk transfer from government's and related entities will drive significant volumes in years to come.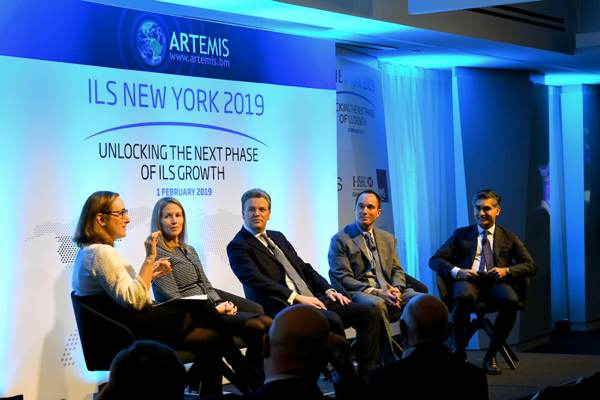 Kathleen Reardon, CEO of Bermudian reinsurer Hamilton Re summed up the permanence of ILS well, saying, "We're all here today because our clients want this product."
Speakers discussed the importance of the ILS product remaining relevant to ceding companies and suggested that it will continue to become increasingly important that traditional re/insurers can offer third-party capital backed product to their customers.
John Forney, CEO of expansive Floridian primary insurer United Insurance Holdings Corp., highlighted how important ILS has become to his company saying, "ILS makes us much more confident in what we do and helped us build a (reinsurance) tower that gives us confidence."
After the losses of 2017 and 2018 it is encouraging to hear users of ILS capacity speak so positively about the experience they had in using ILS products, suggesting that recent experience will actually go on to drive greater adoption and uptake in years to come.
Aditya Dutt, President, Renaissance Underwriting Managers, Ltd., discussed the wide range of ways reinsurer RenaissanceRe partners with ILS investors and highlighted that it benefits their clients, "The reason ILS capital has become so successful is because it works," adding that the use of ILS should be client driven and "borne out of a client need."
Speakers throughout the day showed optimism that the ILS market will continue to find new way to secure access to risk along the value-chain and explained how important origination and securing access to it is for the market's continued expansion.
In addition, the use of advanced data and analytics, as well as platforms for transferring risk, are expected to drive further opportunities to underwrite and securitise new types of risk, as well as to broaden the investor base going forwards.
Speakers also highlighted the ability of advanced technologies to grow entirely new classes of insurance business that may in future benefit from efficient reinsurance capacity backed by the ILS market.
In public risk transfer and the use of ILS by government bodies, it is expected that this trend has only just scratched the surface of what could be possible in future.
Speakers emphasised that this trend will be self-sustaining and deliver the commercial gains that investors are looking for, as the world's public entities take on greater responsibility for the risks they hold and look to transfer them to the most efficient capital and re/insurance capacity providers.
In addition, the final expert panel of the day addressed issues related to the current state of the ILS market.
It concluded that a period of reflection and consolidation, as well as ongoing education for investors and ceding companies after the losses of the last two years, are just what the ILS market needs to create a base for and stimulate further growth, while further cementing its position within global risk transfer and reinsurance markets.
Attendees also took a positive outlook on the market and its potential for growth, with a diverse group attending from within the market as well as organisations that sit on the outside of traditional insurance, reinsurance and ILS but for whom the sector is of interest and offers future potential.
It was a pleasure to host our sixth international conference and we appreciate the positive feedback from those attending, our speakers and our all important sponsors.
We look forward to seeing some of you in Singapore on July 11th 2019 for our third ILS conference in Asia, ILS Asia 2019. Please save the date for this event, tickets will be on sale very soon.
For all enquiries regarding sponsorship opportunities for upcoming Artemis conferences please contact [email protected].
Thank you to all of our ILS NYC 2019 sponsors, detailed below:
Our Gold Sponsors:
Our Silver Sponsors:
Our Bronze Sponsors:
Our Associate Sponsors:

For all enquiries regarding sponsorship opportunities for upcoming Artemis conferences please contact [email protected].
View all of our Artemis Live video interviews and subscribe to our podcast.
All of our Artemis Live insurance-linked securities (ILS), catastrophe bonds and reinsurance video content and video interviews can be accessed online.
Our Artemis Live podcast can be subscribed to using the typical podcast services providers, including Apple, Google, Spotify and more.