Risk modelling firm EQECAT has released new versions of its U.S. Hurricane Insured Loss Database and Event Library, which allow insurers, reinsurers and catastrophe bond issuers or investors to model the frequency and severity distribution of industry losses from hurricanes.

Having a robust view of potential hurricane insured losses is vital to the reinsurance and insurance-linked securities (ILS) markets, where the view of risk is often extrapolated from the frequency and severity of historical events on top of which forward-looking models, meteorological factors and projections are layered.
This latest release of EQECAT's U.S. Hurricane Insured Loss Database presents the losses  in a Year Loss Table (YLT) format with a full-time domain representation of EQECAT's view of the frequency and severity distribution of industry losses from hurricane risk.
According to EQECAT, this allows users to fully investigate EQECAT's modeled view of risk, including tail risk present due to inherent uncertainties in natural catastrophe outcomes, without having to make assumptions on distributions or correlation, implementing sampling techniques to represent the range of outcomes considered within the model.
The latest version provides users with quick and easy access to EQECAT's industry risk perspective, and allows easy calculation of key risk metrics such as per occurrence (OEP)and annual aggregate loss exceedance (AEP) curves), average annual loss (AAL), and event-by-event losses (ELT). The US Hurricane ILD version 3.00 represents EQECAT's modeled view of the distribution of potential industry wide losses by region and line of business (LOB) from hurricanes for 21 hurricane states.
The EQECAT Event Library US Hurricane version 3 enables users of EQECAT's U.S. Hurricane Insured Loss Database (ILD) products with detailed event characteristics, and storm track data for stochastic events from the North Atlantic Hurricane Model. This allows users to take their data and visualise hurricane tracks as well as look at the potential loss outcomes.
Neil Catford, Practice Leader for Europe, Middle East & Africa at EQECAT, commented on the release; "The new ILD exposes EQECAT's robust modeling methodology and provides simulations for 300,000 years of losses in a Year Loss Table (YLT) format. The granularity of the data enables users to create the EQECAT view of risk for individual ILWs, UNL covers and Cat Bond transactions as well as the aggregation of risk at the portfolio level. Risk analysis using YLT data is more robust and easier to manipulate compared with the previous ILD which was delivered in an Event Loss Table (ELT) format."
EQECAT has also released an updated version of its European Windstorm Insured Loss Database, which provides insight into the potential losses from Extra-Tropical Cyclones based on EQECAT's insured market portfolio for Europe. It has also been released in a Year Loss Table (YLT) format, allowing users greater analytical capability with respect to the event frequency and seasonality of European windstorms.
The Insured Loss Database can be used by insurers, reinsurers and catastrophe bond market participants to; analyse market share, quantify the insured market catastrophe loss potential by region and line of business, analyse basis risk, evaluate the basis risk between traded ILWs and region market loss, evaluate industry-loss warranties (ILW's), assess EQECAT's perspective of the natural catastrophe risk component in Industry Loss Warranties (ILWs) and more.
———————————————————————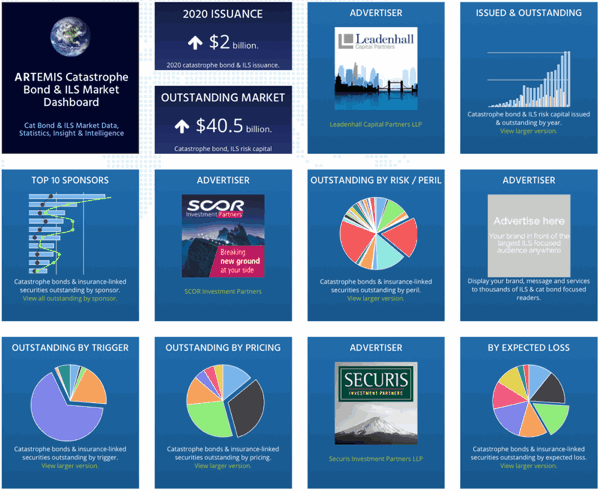 Analyse catastrophe bond market issuance using the Artemis Dashboard and Charts.
We've tracked more than 650 cat bonds and related ILS transactions since 1996, all of which are included in our extensive Deal Directory.
Use the Artemis Dashboard and our Cat Bond Market Charts to analyse this market!