In these times of economic turmoil when billions can be lost in a matter of hours on fluctuating and unstable markets, catastrophe bonds and insurance-linked securities are still performing admirably.
The Wall Street Journal has an article on just this topic today which is also great for widening the appeal as it helps reach out to the investment community and potential new market participants.
Most interesting are is the chart showing the growth of the Swiss Re Cat Bond Total Return Index against the S&P 500 and a typical high yield corporate bond. The cat bond index performs admirably as you can see below:
The recent global credit crunch appears to have caused no more than a 3% dip in the index value of late which when compared to some other potential investments must make catastrophe bonds a highly attractive proposition for anyone looking to diversify their portfolio. Of course the recent blip in the index value may continue while issuance stagnates, but expect it to rise again if the hurricane season fails to trigger a bond and new deals hit the market.
You can chart the Swiss Re cat bond index over on Bloomberg.
———————————————————————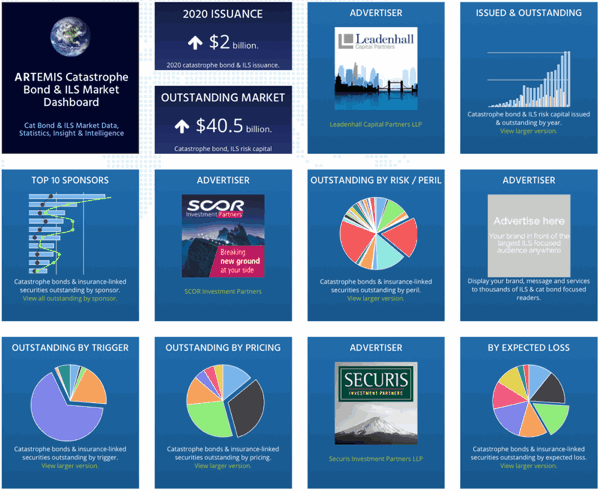 Analyse catastrophe bond market issuance using the Artemis Dashboard and Charts.
We've tracked more than 650 cat bonds and related ILS transactions since 1996, all of which are included in our extensive Deal Directory.
Use the Artemis Dashboard and our Cat Bond Market Charts to analyse this market!