Blue Capital Management, the third-party capital and reinsurance-linked fund management arm of Bermuda based reinsurer Montpelier Re, has announced its intention to raise more capital for its listed Blue Capital Global Reinsurance Fund.

In an announcement filed with the London Stock Exchange this morning, Blue Capital said that it intends to proceed with its third placing of new shares in the fund under the terms of the Placing Programme announced on 17th April 2013. The closing date for the third placing is anticipated to be in March 2014.
Proceeds from this third placing, which gives new investors an opportunity to enter the fund at a fixed share price, will be invested in fully collateralised reinsurance contracts and other insurance linked investments carrying exposures to similar event-linked risks in accordance with the fund's investment policy.
The Blue Capital Global Reinsurance Fund launched in December 2012 with an initial capital raise of $101.1m. This was followed with the launch of the current placing programme in April 2013, the first placement of which saw an additional $52.3m of shares sold to investors and the second placing in November 2013 which added another $23m.
The fund achieved a total net asset value return including dividends to investors of 11.8% in 2013. The target return for the Blue Capital Global Reinsurance Fund is LIBOR plus 6% per annum on the original issue price of its shares and a net return to its shareholders of LIBOR plus 10% per annum, net of fees.
We will update you as more details about this latest capital raise for the Blue Capital Global Reinsurance Fund emerge.
———————————————————————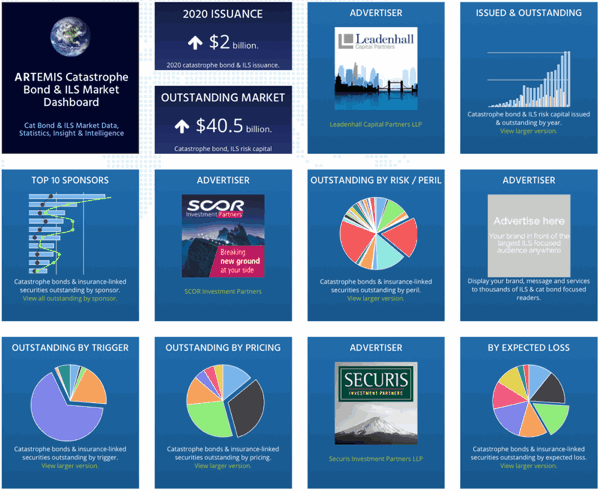 Analyse catastrophe bond market issuance using the Artemis Dashboard and Charts.
We've tracked more than 650 cat bonds and related ILS transactions since 1996, all of which are included in our extensive Deal Directory.
Use the Artemis Dashboard and our Cat Bond Market Charts to analyse this market!