Investment manager Baillie Gifford, who are headquartered in Edinburgh, Scotland, have once again demonstrated their appetite for reinsurance linked investments by taking just over 7% of the shares available in Blue Capital Reinsurance Holdings Ltd. (BCRH).

Blue Capital Reinsurance Holdings Ltd. (BCRH), the NYSE exchange listed collateralized reinsurance subsidiary of Bermuda reinsurer Montpelier Re, raised $125m from third-party investors at its launch and took another $50m from a concurrent private placement with a Montpelier Re subsidiary.
In a recent filing, it was revealed that Baillie Gifford owns 629,438 shares in Blue Capital Reinsurance Holdings, which amounts to 7.19% of the available shares in that share class.
Baillie Gifford has become a fairly major investor in the ILS and reinsurance linked investments space, having invested in the Blue Capital Global Reinsurance Fund, as well as CATCo's Reinsurance Opportunities Fund and also investing directly into some catastrophe bonds.
Baillie Gifford offers its investors, both retail and institutional, a range of multi-asset strategies in fund form into some of which it places an allocation of catastrophe risk and reinsurance. Its funds contain assets across many classes including equities and are available to access via pensions and other personal investment offerings in the UK.
By adding some component of reinsurance and catastrophe risk to some of its offering, Baillie Gifford provides the diversification and low-correlation benefits while sourcing yield from a relatively new asset class for its clients.
More of these investment managers, who deal in retail investors as well as institutional, are likely to access the ILS and reinsurance linked investments space over time, bringing additional capital to the sector. Baillie Gifford has been one of the leading investment managers in this group, consistently showing its appetite for investments linked to insurance and reinsurance.
———————————————————————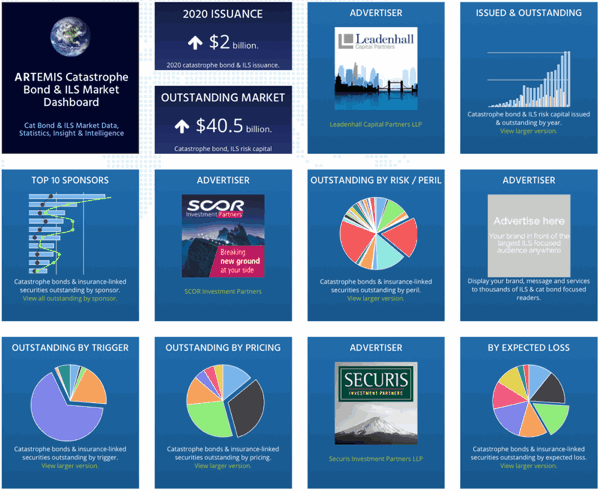 Analyse catastrophe bond market issuance using the Artemis Dashboard and Charts.
We've tracked more than 650 cat bonds and related ILS transactions since 1996, all of which are included in our extensive Deal Directory.
Use the Artemis Dashboard and our Cat Bond Market Charts to analyse this market!