The WRMA (Weather Risk Management Association) annual meeting finished today and during the proceedings they announced some of the results of their latest annual weather risk market survey they undertake with Pricewaterhouse Coopers LLP. Top level findings are below; we'll publish more as we have them:
The market experienced good growth for 2007-2008, with the number of contracts traded increasing 35% compared to the previous year.
The total number of contracts traded — futures and over-the-counter derivatives — totaled 985,000 for 2007-2008, compared to 730,000 contracts in 2006-2007.
Notional value of the contracts rose 76 percent to $32-billion in 2007-2008, up from $19-billion in 2006-2007.
In India, Latin America and Southeast Asia, the weather market is expanding. Several Indian companies have joined WRMA and the Association is setting up a regional committee to serve those new members.
The industry also is seeing more diversity of participants with insurance companies, banks, hedge funds and end-users active in the market. As evidence of a healthy increase in the volume of end-user transactions, the survey shows that the proportion of trades reported between WRMA members and non-members rose to 90 percent for 2007-2008.
Martin Malinow of Galileo Weather Risk Management (ex XL Weather & Energy) is the new President of the WRMA for the next year with Gearoid Lane stepping down.
———————————————————————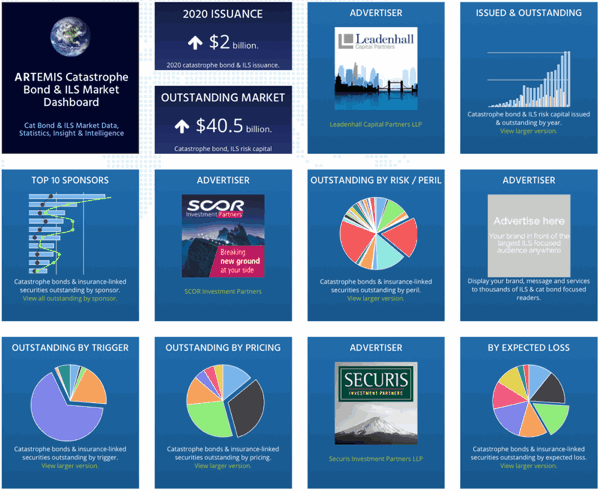 Analyse catastrophe bond market issuance using the Artemis Dashboard and Charts.
We've tracked more than 650 cat bonds and related ILS transactions since 1996, all of which are included in our extensive Deal Directory.
Use the Artemis Dashboard and our Cat Bond Market Charts to analyse this market!