Further to yesterdays update to U.S. military mutual insurer USAA's Residential Reinsurance 2015 Ltd. (Series 2015-2) catastrophe bond deal, which saw the transaction price guidance narrow, it's now emerged that the deal has upsized to $125 million.

From launch the Residential Re 2015-2 cat bond was seeking $100 million of protection from its single tranche of Series 2015-2 notes for USAA, as the insurer looks to secure its 25th layer of catastrophe bond backed reinsurance from the capital markets.
The deal has now grown by 25% to $125 million, we understand, likely due to higher demand from investors seeking to gain access to the notes.
At this stage the price guidance remains at the tightened range of 7% to 7.25%. We are told that the books close late today on this cat bond and that the notes will be priced tomorrow (Friday 20th).
So USAA looks set to secure an upsized $125 million four-year source of collateralised reinsurance protection against losses from U.S. tropical cyclones, earthquakes (plus fire following), severe thunderstorm, winter storm, wildfire, volcanic eruption and meteorite impact, on a per-occurrence basis and using an indemnity trigger.
We'll update you when the final pricing details emerge.
Read all about USAA's 25th catastrophe bond Residential Reinsurance 2015 Ltd. (Series 2015-2) and the previous 24 cat bonds sponsored by USAA in the Artemis Deal Directory.
———————————————————————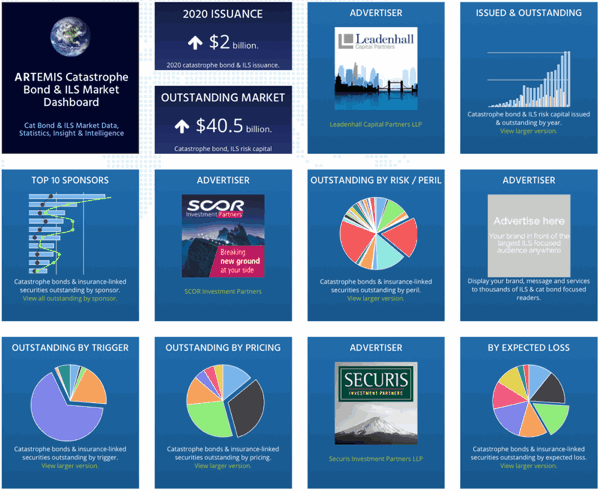 Analyse catastrophe bond market issuance using the Artemis Dashboard and Charts.
We've tracked more than 650 cat bonds and related ILS transactions since 1996, all of which are included in our extensive Deal Directory.
Use the Artemis Dashboard and our Cat Bond Market Charts to analyse this market!