Catastrophe risk modelling company RMS has put out an estimate of the insurance market loss from typhoon Jebi's impacts in Japan, saying it could be as much as $5.5 billion and that figure doesn't include everything.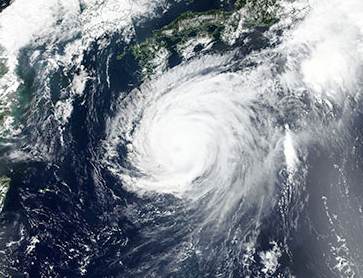 RMS's estimate of losses that insurance, reinsurance and some ILS markets will take from typhoon Jebi is a range from $3 billion to $5.5 billion (between JPY ¥340 to ¥620billion).
The firms estimate compares to competitor AIR Worldwide's estimate of JPY 257 billion ($2.3 billion) and JPY 502 billion ($4.5 billion) of insurance or reinsurance industry impacts.
But this does not include damage to infrastructure and port facilities in Japan, marine hull line of business losses, claims adjustment expenses, and some aspects of business interruption including Contingent Business Interruption, hence the total industry loss is likely to be towards the upper end of the range, we'd imagine.
RMS has based its estimate on an analysis of a reconstructed event footprint it created using the Japan Typhoon High Definition model and the 2018 Japan Typhoon Industry Exposure Database.
As well as this, RMS participated in remote and in-person reconnaissance, undertaken by risk modelers from the firms office in Tokyo.
Roughly 80% of the typhoon Jebi industry loss comes from the Kansai region of Japan, RMS said, where Jebi made a second landfall west of Kobe, impacting the Kyoto-Osaka-Kobe conurbation. In the region the loss is largely driven by the Osaka Prefecture.
RMS said its estimate takes into account the wind footprint that affected large parts of Japan, including in northern Honshu and in Hokkaido where, Jebi impacted areas while undergoing extratropical transitioning.
RMS' estimate includes typhoon coastal flooding, which was seen in Kansai International Airport, in the ports of Kobe and Osaka, and in localized areas of reclaimed land/barrier islands in Osaka Bay. However the firm said that typhoon driven inland flooding was deemed negligible from this event.
Marine cargo losses have been included in the RMS estimate, from the Kobe and Osaka ports, largely due to typhoon driven coastal flooding.
Yasunori Araga, President, RMS Japan, commented, "2018 continues to be an eventful year for natural catastrophes in Japan, both for earthquakes and typhoons. The RMS Japan Typhoon High Definition model has been used for this assessment, as has the Japan Earthquake High Definition model in recent months. The investment from RMS into the technology and science for the Japan models reflects the determination to allow all our clients the best view of risk in Japan; which, as recent events show, is of vital importance."
The market does not expect any catastrophe bond impact from typhoon Jebi, given the outstanding Japan typhoon cat bonds would require a much larger industry event to trigger them.
Hence, any ILS market impact from typhoon Jebi is likely restricted to collateralized reinsurance participations, quota shares or sidecar leakage into the capital markets, or simply to aggregate deductible erosion on ILS backed reinsurance structures.
View all of our Artemis Live video interviews and subscribe to our podcast.
All of our Artemis Live insurance-linked securities (ILS), catastrophe bonds and reinsurance video content and video interviews can be accessed online.
Our Artemis Live podcast can be subscribed to using the typical podcast services providers, including Apple, Google, Spotify and more.